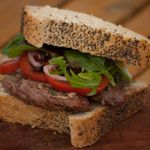 This barbecued-meat sandwich is perfect for a summer lunch.
Grab a nutritious kangaroo steak fresh off the barbecue, put it on a slice of fresh wholegrain bread, whack on some lettuce, tomato and a smidgen of low-fat mayonnaise and you have a quick and healthy summer lunch. Note that kangaroo is best cooked medium-rare, otherwise it becomes tough. If you prefer your meat well-done, then substitute the kangaroo for your own choice of meat.
Kanga sanga (Serves 4)
Ingredients
4 x 150 gram kangaroo rump steaks
1 tablespoon of extra virgin olive oil
2 cloves garlic, finely diced
1 tsp of finely chopped parsley
8 slices wholegrain bread
salt and pepper to taste
rocket or lettuce
1 fresh tomato, sliced
1 teaspoon light mayonnaise
Method
1. Place steaks, olive oil, garlic and parsley and place in a plastic bag. Hold the opening of the bag and shake it up to distribute the herbs evenly. Use a meat tenderiser to flatten your steaks to around half a centimetre thick (this also gets the garlic and parsley into the meat).
2. Place the steaks on a hot, pre-heated barbecue. Cook them until they are rare only (no more than 2 minutes on the first side, then 1 minute on the reverse side).
3. To make the sandwiches, place a steak on top of one piece of bread, then add salt and pepper to taste. Add some rocket or lettuce and tomato. Spread the mayonnaise on the other slice of bread.
4. Serve straightaway while hot, with a nice cold summery drink.