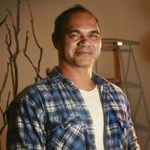 Five years since its last showing at the Belvoir Street Theatre in Sydney, David Page will return to the stage later this month in special two week return season of Page 8.
Page 8 is a coming of age story, about how the eighth child in a family of twelve grew up in a housing commission estate to become one of Australia's most renowned, original and exuberant performers.
This self portrait, performed by David himself, incorporates heartfelt storytelling, 1970s home movies, singing, dancing and his now-famous drag routine.
David is directed by his younger brother Stephen Page and collaborated with Louis Nowra to write the script. Originally commissioned and produced by Company B and first performed in Australia in 2004, Page 8 went on to tour Australia, New Zealand and the UK in 2005 and 2006.
"I am delighted to bring Page 8 back to the Belvoir St Theatre, where it all began in 2004. It is a deeply personal story about our family, our history and our culture. It is about courage, vulnerability, love, pain and loss, and finding your path in life without compromise,' said David.
SEASON INFORMATION
Season dates: 21 October to 1 November
Preview: Wednesday 21 October
Opening night: Thursday 22 October
Times: Tuesday 6.30pm, Wednesday – Friday 8pm, Saturday 2pm & 8pm, Sunday 5pm
Tickets Full $56. Seniors (excluding Fri/Sat evenings) and Groups 10+ $46. Concessions & Previews $34 Student Rush $25 for Tuesday 6.30pm and Saturday 2pm, available from 10am on the day (subject to availability)
Venue Belvoir St Theatre, 25 Belvoir St, Surry Hills
TICKET BOOKINGS
9699 3444 or www.belvoir.com.au St Theatre, Sydney