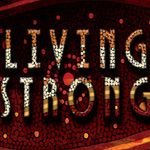 Living Strong is the name of a deadly new Indigenous health and lifestyle program that will be airing every week on NITV from Tuesday November 3rd 7:30pm AEST.
Showcasing inspirational Aboriginal and Torres Strait Islander people and tackling major health issues head on, the Living Strong formula brings together Indigenous people, young and old from remote, rural and urban communities, to share in the goal of improving the state of Indigenous health.
The first episode of Living Strong to air next week takes viewers to the NT to meet Yuendemu elder Alec Wilson who undergoes cataract surgery. A successful operation means he'll be able to see his family properly for the first time in years.
In Canberra, we meet Ben Austin, a one armed para-Olympic swimmer who defies the odds to beat the best of the best at the 2004 games in Athens.
In the Kimberly community of Bidyadanga, hunting is men's business, gardening is women's work and eating well is a way of life, that's canning fast food and increasing community health, and in the studio, Mackay golden girl Catherine Freeman talks with Rhoda Roberts about that race, staying healthy and life at the top.
Watch Living Strong on NITV Tuesday November 3rd 7:30pm AEST
Visit www.nitv.org.au/livingstrong for more info on the show.