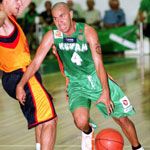 Timmy Duggan – Bouncing Taipan
Darwin-bred Timmy Duggan has been bouncing a basketball since he was six years old. Today at 23, Timmy's still bouncing that ball, the only difference being that he has now fulfilled his childhood dream of becoming a full-time member of the Cairns Taipans, currently one of the most exciting teams in the NBL.
According to Timmy, spending his childhood years in Darwin was great. Not only did he play basketball during the hot summer months, he was also involved in many other sports with his schoolmates, including Aussie Rules football. In fact, one of those schoolmates was a lad called Robbie Ahmat, now a well-known footballer with the Sydney Swans. "He taught me a thing or two about kicking a goal!" jokes Timmy.
When he was 17, Timmy was offered a scholarship with the NSW Under 18s basketball squad. That meant a move to Sydney in order to show the A-list what a blackfulla from Darwin could do on the court. And show them he did. Before too long Timmy had been signed up as a member of the Under 20s squad.
Timmy moved to Cairns in 1997 in search of bigger things and quickly gained selection with the Cairns Marlins, a team that plays in the ABA competition, the league below NBL. Making a big impact as usual, Duggan led the Marlins to two state championships. He then moved on to play with the Gold Coast Rollers and was instrumental in their winning of the national title over the Frankston Blues.
"In the final of the championships I had the game of my life and was lucky enough to pick up the Golden Hands Award for best guard in the league," says Timmy. "It was a great pleasure to be selected for such an award."
In that same year Timmy also captained the Australian Indigenous team on a successful tour of American Samoa, competing in the All-Indigenous Pacific Championships against countries such as Tonga and Samoa.
"Being part of such a team was great. We were all under the age of 20, and we were competing against players in their 20s and 30s. We came up against some tough competition, but at the end of our battling tour everyone was happy to be coming home with a silver medal around their neck."
Standing at just 182cm tall, Timmy is by far the shortest player in the Taipans, if not the entire NBL. But he doesn't see it as a disadvantage. "The way I see it, me being shorter than the rest of the guys makes it easier for me to move around the court. I'm quicker than a lot of the taller guys in the team and I can outclass my opponents with my skills."
Currently working at the Wuchopperen Aboriginal Medical Service in Cairns as a health promotions officer, Timmy says that he loves working with Aboriginal people. "We go to schools and give talks on nutrition and fitness, spreading the word about the advantages of healthy living."
So does Timmy have someone he looks up to?
"Yes, Anthony Mundine. We went to high school together. I admire him because of the stuff he does out of the ring as well in the ring. He speaks what he feels and doesn't let anybody tell him differently."