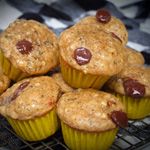 You can't beat these muffins for a quick and healthy snack to have with a cuppa. They're tasty, wholesome and nutritious, with rolled oats, brown sugar, walnuts and wholemeal flour. The choc chips are a sweet surprise, but you don't have to include these if you don't want to. Mashed banana, low-fat milk and yogurt will keep the muffins moist. You can store them in an airtight container for up to five days, but they may last that long with the kids around.
Banana, Walnut & Choc-Chip Mini Muffins
Makes 36
Ingredients
Wet:
1 egg, beaten
1 large banana, mashed
1 cup skim milk
1 cup low-fat plain yogurt
1 teaspoon vanilla essence
Dry:
1 cup wholemeal plain flour
1 teaspoon baking powder
1 teaspoon bicarbonate of soda
¼ cup chocolate chips
¼ cup crumbed walnuts
½ cup brown sugar
½ cup rolled oats
1. Preheat oven to 180°C. Grease or line a 12-hole mini muffin pan with patty-cake papers.
2. Put egg into a bowl and add all the other wet ingredients. Mix well and set aside.
3. In a separate bowl, mix all the dry ingredients together.
4. Pour the wet ingredients into the dry ingredients and mix. (Don't beat, as the mixture will be very heavy.)
5. Spoon a third of the mixture into the mini-muffin pan holes – about half a dessertspoon in each one. Bake for 10 minutes. Remove muffins from pan.
6. Repeat Step 5 twice, until all muffins have been baked.