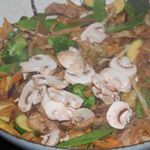 Stir-fries are tasty, healthy and easy to cook
The secret to a good stir-fry is to cook it fast, which retains both the colour and nutrients in the vegetables. You can also add some lean, thinly sliced meat, such as pork. Lean pork is low in calories and a good source of diet protein and thiamin.
Glass noodles, which are also called cellophane noodles or bean thread vermicelli, can be purchased dried from Asian food stores or the Asian section of your supermarket. You could also substitute the fresh chilli for a teaspoon of dried chilli powder (or more to your taste), and the fresh mushrooms for 25g of dried Chinese mushrooms (soften them in boiling water).
This recipe reflects an Asian influence common in the diets of northern Australian Aboriginal and Torres Strait Islander communities. For the best result, have all your ingredients out and ready to go before you put the wok on the heat.
Pork with Vegies and Glass Noodles
Approximately 233 calories (about 979 kilojoules)
Serves 4
Ingredients
canola oil spray
½ teaspoon sesame oil
1 medium red onion, sliced
2 cloves garlic, finely cut
1 tablespoon freshly grated ginger
200g lean pork fillets, thinly sliced
1 fresh red chilli, finely sliced
½ carrot, grated
½ medium zucchini, sliced
75g small broccoli florets
75g grated cabbage
75g sugar peas or snow peas (or local substitute)
½ cup sliced mushrooms
100g Chinese glass noodles
2½ tablespoons soy sauce
2 tablespoons oyster sauce
1 teaspoon fish sauce
chopped coriander to garnish (optional)
Method
1. Put the dried noodles in a heatproof, deep bowl and cover them with boiling water. Leave for 5 minutes to soften. Drain the noodles, then chop into shorter lengths.
2. Spray the surface of a large wok with canola oil, add the sesame oil, then place the wok over a high heat. Add the red onion, garlic and ginger. When the onions are transparent and the wok is sizzling, add the pork and chilli. Stir vigorously until the pork is browned evenly, around 2 mins.
3. Add the carrot, zucchini, broccoli, cabbage and peas, then cook for 2 minutes at the most, until just cooked.
4. Add the mushrooms and stir for one minute. Add the soy sauce, oyster sauce and fish sauce, then the noodles. Stir until all the ingredients are mixed together, but no longer than 2 minutes to avoid overcooking. Remove wok from heat immediately.
To Serve: Divide the stir-fry between four noodle bowls and top with chopped coriander, if you like.
Next month: Bolognaise sauce is a quick, tasty and healthy topping for pasta. Try our recipe for Vibe Bolognaise.