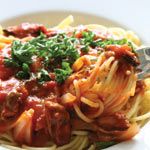 Say goodbye to creamy pasta sauces and hello to a tasty meat-based sauce packed with vegies
Originally from the town of Bologna in Italy, Bolognaise sauce is popular around the world. It's affordable, simple to make and delicious every time, even if you vary the ingredients.
This version contains beef and pork mince, but you could use all beef or try combinations of pork, veal or kangaroo mince for variety and fewer calories. You can also add any herbs and seasonings you like, such as oregano, basil, parsley and black pepper.
This recipe is low in calories, budget-friendly and contains protein, vitamins and low GI carbohydrates, which is good news for a healthy diet.
Vibe bolognaise
Serves 6
Ingredients
olive oil spray
1 medium white onion, finely diced
3 cloves garlic, pressed or diced
2 sticks of celery, finely chopped
1 medium carrot, finely grated
1 medium zucchini, finely grated
2 tablespoons tomato paste
1 x 400gram can diced tomatoes
1 cup mushrooms, finely sliced
200g low-fat beef mince
200g low-fat pork mince
1 cup skim milk
1 x 500g packet of spaghetti
Method
1. Spray the surface of a large saucepan with the oil, then add the onion, garlic, celery, carrot and zucchini. Cook over a medium-high heat until the onions are soft but not brown.
2. Add the tomato paste, diced tomatoes and mushrooms. Add all the mince and cook until meat is brown. Add the milk and simmer for 1 hour.
3. When the sauce is nearly ready, cook your spaghetti according to the instructions on the packet.
To serve: Divide the spaghetti evenly between six pasta bowls and top with the bolognaise sauce. You could also add some finely grated parmesan cheese and finely chopped basil or parsley.
Next month: Curry in a hurry.