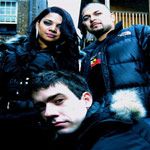 April Hip Hop Drop
The Last Kinection consists of DJ Jay Tee and brother-sister duo Joel and Naomi Wenitong (aka Weno and Nay of Local Knowledge and Shakaya fame, respectively).
This crew delivers the issues with clarity, originality and passion, empowering listeners with a respect for culture, truth and freedom of speech. They run hip hop and R&B workshops and have performed all over Australia, including at The Dreaming and Groovin the Moo festivals, the Cannot Buy My Soul sell-out concert series, the
Sydney Opera House, and they recently toured with The Herd.
Get your copy of their brilliant debut album, Nutches, as soon as you can and have a listen to the track I Can,
featuring Sydney artist Radical Son.
Describing himself as sounding like the baby of Hilltop Hoods and Funkoars who wasn't raised right, Briggs is a larger-than-life MC who has the wit and charm to make it big.
At the ripe old age of 22, Adam Briggs from the Yorta Yorta nation is one of the most anticipated MCs in the country and has been getting plenty of attention around Melbourne. Briggs has been at the top of veteran Melbourne MC Reason's list for the past two years, assisting him with his live shows and smashing the stage
alongside the best in both local and international talents.
If you like your Indij hip hop hardcore, check out Briggs' solo debut EP Homemade Bombs. I recommend the track Bad Move.
Munkimuk hosts Koori Radio's The Indij Hip Hop Show, syndicated nationally through the National Indigenous Radio Service, the CRN and CAAMA networks, and you can hear his Hip Hop Drop every week on Deadly Sounds.