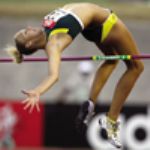 >Deadly Vibe Issue 77
TAMARA GRANT, 15, IS ALL ABOUT ATHLETICS.
This Year 10 student from Queensland's Redbank Plains State High School has competed in the 100m, 200m, long jump and triple jump events for the past five years. Her parents are supportive of their daughter's training. After all, Mum's a sprinter, her dad played soccer and her sister played hockey before enrolling at uni.
Focusing primarily on sprinting, Tamara trains between seven and nine times a week – even on Sundays! But that's not all. She also has a weight training schedule to fit in at least twice a week! However, she loves to run so she doesn't mind the training demands. She insists that she still gets to go out with friends on weekends or catch a game of pick-up soccer.
The practice has paid off. Her PBs are 12.5 seconds in the 100m and 25.8s in the 200m. Tamara is coming off an injury which stalled her training last season. Before she was hurt, she was ranked second in the 100m and fourth in the 200m. Of course those Olympic flames are on the horizon, but now she is focusing on improving her times in her quest to qualify for the Queensland State Team.