Along with the official raising of both the Aboriginal and Torres Strait Islander flags, DEETYA's Secretary and other Executive staff members set themselves the task of attempting to learn some Ngunnawal cultural dances (apparently it was a sight to be seen).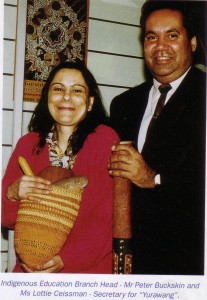 NAIDOC Week is the highlight of many Aboriginal and Torres Strait Islander people and their supporters. In all capital cities and many regional communities, it is the focus for a week of activities organised by Aboriginal and Torres Strait Islander people to increase awareness and understanding of their rich and diverse heritage.
The theme for NAIDOC 1997 was "Gurindji, Mabo, Wik – Three Strikes for Justice". Celebrating the 30th Anniversary of the 1967 Referendum where Aboriginal and Torres Strait Islander people finally attained official "Citizenship".
Around Australia, Indigenous DEETYA staff organised NAIDOC activities and events on behalf of the Department. Many DEETYA staff took the opportunity to participate and celebrate our heritage and cultural activities in many local areas.
In Western Australia for example, a multicultural flavour was adopted at the Perth office on July 10. Instead of the Aboriginal and Torres Strait Islander staff providing kangaroo, damper and other traditional dishes, the menu was expanded to reflect the diverse cultural backgrounds of staff within the Department.
Cass Douglas, from DEETYA's Western Australian NAIDOC Committee which organised the luncheon, said the decision to include other cultures was made to promote the spirit of reconciliation between Indigenous and non-Indigenous staff.
Previous years have seen a diverse and sometimes unique range of activities with this years being no different. Yurawang, the DEETYA National Office Indigenous Networking Committee arranged, on behalf of the Department in Canberra, a range of NAIDOC activities such as the Family Day Display a specific DEETYA Departmental display, a lunchtime Indigenous video presentation; a library display, as well as the Secretary's afternoon tea.