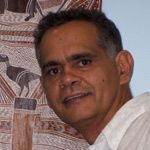 Deadly Vibe Issue 86 April, 2004
Lafe Charlton is pretty happy. He was recently told he'd won the Indigenous Facilitator's Prize at the Sidney Myer Performing Arts Awards. These are prestigious awards, so it's a great achievement by any standards.
Lafe, 43, hasn't won any previous awards so he wasn't holding his breath.
" I was a bit surprised to win this one," he said, "but it feels great. I feel inspired. It makes it all worthwhile, all the hardship and sacrifice. And there's been a fair bit of sacrifice in terms of time, effort, relationships … but you know, along with my people, the theatre is my first love. If I could do it all again, I definitely would. I might change one or two things, but then who wouldn't?'
The award recognises Lafe's years of contributing to and facilitating indigenous arts projects. It is a reward for almost 20 years' service to the arts, and is well deserved. Lafe has been one of the driving forces in Indigenous theatre in Queensland, both as an actor and, more importantly, behind the scenes where it really happens.
This work began in the 1980s, when Lafe was the Murri programs coordinator with Contact Youth Theatre. He was also instrumental in setting up the Indigenous theatre company Kooemba Djarra, but his main focus for many years was Contact, helping to develop it into one of the key community-based arts organisations in the country. He was Contact's public face, working as an administrator, tutor, director, tour manager and visual artist.
With such broad experience, Lafe has been a mentor to many up-and-coming Indigenous artists – not just big names such as Deborah Mailman, Ernie Dingo and Wesley Enoch (the director of The Cherry Pickers and Stolen), but also to many other lesser-known artists.
For the past three years, Lafe has been the director of the Aboriginal Centre for Performing Arts in Brisbane, which is more an educational venue than performance space.
"The rewards at the centre are long-coming," Lafe said. "My main goal here is to create greater opportunities for Indigenous performers in the performing arts right across the spectrum – performance, production, all artistic areas. Hopefully, we'll reach the point where mainstream Australia will look at colour-blind casting. The calibre of Indigenous performance is often just as high as mainstream performance, and maybe one day Indigenous performers will not just be typecast in roles that are 'Indigenous'. They can be actors, not just Indigenous actors.
"My other goal is to take performing arts projects out there to communities, schools, and overseas as well."
And what does Lafe single out as his personal career highlight? "Seeing people like Deb Mailman and Ernie Dingo being prominent performers on Australian TV. I worked with Deb on a couple of shows in youth theatre, so seeing her develop into a popular TV actor is very rewarding. And Ernie is the host of The Great Outdoors. Being the actual host is quite an achievement. Deb and Ernie and others like them are creating pathways for other Indigenous performers to make it on popular TV."
Lafe may now be an award-winner, but he is not resting on his laurels. "In terms of the broader picture, I would like to see the Indigenous arts influence the evolution of Australia's national identity – not just the performing arts, but also Indigenous philosophy, laws, morality, and spiritual and religious aspects. I'd like to see all these areas incorporated into the mainstream."
Is he optimistic about this? "There is minimal progress to date – it's slow and step-by-step," he says. "But in the arts it's not as hard as it is in other fields because our mainstream artists create their own spiritual universe in their work. They expand the possibility of what can actually exist."
While the Aboriginal Centre for Performing Arts doesn't stage performances, Lafe is excited about the forthcoming production of Which Way?, which opens at the Bisy Theatre at the Brisbane Powerhouse in August.
For more information on the centre, check out its website – www.acpa.net.au
And more power to you, Lafe!
(Story 1/4/2004 end.)