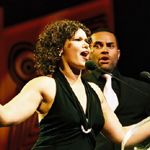 Putting on a Show
The Sydney Opera House Concert Hall has now become home to the annual Deadly Awards, and there could be no more fitting location than this prestigious venue.
For those lucky enough to score a ticket to this year's Deadlys, held on Thursday, September 22, the night started off in style, with a host of stars making their way down the red carpet dressed in their best glad rags. Footballers, singers, television personalities and politicians were all there to see the show and to help celebrate Aboriginal and Torres Strait Islander achievement.
The ceremony was hosted once again by Ernie Dingo, who got the crowd going when he came out on stage wearing a West Coast Eagles scarf under his suit jacket just days before the AFL Grand Final. Ernie's relaxed professionalism made him the perfect choice for Deadlys host, and he had the crowd in the palm of his hand with his cheeky banter interspersed with heartfelt commentary and words of respect for the night awards winners.
Guest star presenters were also a big hit, with the unofficial best presenter's award going to Luke Carroll and Parramatta's Dean Widders. Other presenters included double award winner Casey Donovan and Troy Cassar-Daley, Kyle Vander-Kuyup and Josh Ross, and the very lovely Shakaya.
But perhaps the hardest working of all of who appear on the Deadlys stage were the dancers. Twenty one of Australia's brightest young dancers amazed the audience with their agility, rhythm and stamina. From the haunting Emu Dance to the classy ballroom styling of Casey's Symphony of Life, and from the breathtaking tap solo by dancer Steven Oliver to the Grand Finale of Shakaya's Are You Ready?, these dynamic performers did not stop in their quest to entertain.
This years award nominees were of an incredibly high standard, and its only a shame that all of them couldn't go home with a Deadly of their own. But their can only be one winner, and this year more than 12,000 votes were sent in from Indigenous people all across the country, telling us who they thought deserved the title "Deadly".
Winners received a striking hand-crafted Deadlys statuette, which incorporated gold-plated corrugated iron set beneath the 11th Deadlys logo.
Winners also receive a beautiful, hand-cast, solid gold and ruby ring, etched with the insignia of footprints and a rising sun, which symbolises a brighter future for all Aboriginal and Torres Strait Islander people. The ring is engraved with the vision of the Deadlys – that all Aboriginal people reach their full potential.