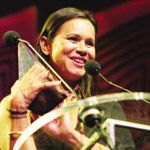 Deadly Vibe Issue 104, October 2005
Across the Airwaves
Saying it loud and proud " Broadcaster of the Year in 2005.
The shocked expression that crossed Rhoda Robert's face as she was announced Broadcaster of the Year at the 2005 Deadly awards was perhaps the only one in the house. For everyone else, it was no surprise that this vivacious, hard-working and talented woman should win such an award.
Rhoda is currently the presenter of ABC Radio National's program Awaye! and is also as a reporter and presenter of Deadly Sounds. But her career in the arts and media has lead to an impressive body of work as a writer, performer, actor, presenter, director, journalist, arts advisor and artistic director.
She came to prominence in the media in 1989 as the first Aboriginal to host a national prime-time current affairs program, SBS Television's First in Line. She has been a journalist and presenter on SBS TV's Vox Populi and has also worked as a presenter for Network Ten and ABC Radio where she worked as a producer and journalist.
Rhoda was appointed to the Sydney Organising Committee for the Olympic Games (SOCOG) as one of 24 Creative Directors responsible for devising components of the opening ceremony. She was also SOCOG's Indigenous cultural advisor.
She was a founding member of Australia's first Aboriginal theatre company, the Aboriginal National Theatre Trust, and as an actor/producer and director continues to work in theatre, film, television and radio.
This year Rhoda was also the artistic director of the inaugural Dreaming Festival " an international Indigenous festival celebrating art and culture.
Upon accepting the award, Rhoda spoke of how radio is essential to Aboriginal Australia, as it is a truly accessible medium that can be used to tell the stories of Australia's Indigenous people.
(story date October 1, 2005 end)