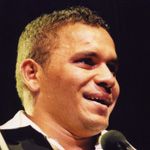 Deadly Vibe Issue 104, October 2005
Bowen takes a Bow
Matt Bowen wins big at the Deadlys.
He may be one of the smallest players in the NRL, but Matt Bowen has proven himself to be one of its biggest stars after taking home two Deadly awards.
Matt took time out from his preparations for the Cowboys' grand-final qualifying match against Parramatta to attend the awards, accompanied by his cousin Brenton, who also won an award for Most Promising New Talent in Sport.
Matt was awarded both Male Sportsperson of the Year and Outstanding Achievement in NRL, an award for which good mate and Eels player Dean Widders was also nominated.
"I would like to wish Deano all the best but I can't, as we have a little game to play on Sunday," he quipped when accepting the award, drawing shouts of laughter from the audience.
Matt certainly appeared to be a hot favourite for both awards, with the crowd cheering loudly when his name was read out along with other nominees.
He also looked the part, wearing a stylish black suit that flattered his powerful physique.
"The contribution of Indigenous athletes in rugby league is well recognised within the game and we are delighted to see them acknowledged in this way," NRL chief executive David Gallop said after the awards.
"Even to be nominated is an achievement at this level, but to see Matt win the major sports award and Brenton also recognised is a great result."
(story date October 1, 2005 end)
Deadly Vibe Issue 80, 2003
Over the past two NRL seasons, elusive Cowboys halfback Matt Bowen has stamped himself as one of the game's most dangerous and exhilarating attacking players, becoming a legitimate scoring threat from anywhere on the park at any time of the game.
Matt's top form payed dividends this year when he made his State of Origin debut in Sydney for game two. He backed up his first taste of Origin football with a starring role off the bench in Queensland's victory in game three in Brisbane.
As well as the Origin selection achievement, Matt had a stand-out year, playing a pivotal role in the Cowboys' record-breaking season finish and reaffirming his reputation as a pint-sized point-scoring machine. The North Queenslander finished the season displaying some typical Matty Bowen brilliance, scoring two tries and kicking five goals in the Cowboys' narrow loss to the Knights in the final round of 2003.