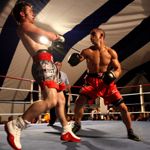 Aboriginal boxing made a triumphant return to Redfern with the first Night of the Black Stars.
Despite torrential rain, the "House Full" sign went up and latecomers were turned away as a sellout crowd of more than 800 people crammed into the bigtop at The Block on Black Friday, the anniversary of the national apology to the Stolen Generations.
The Aboriginal fighters won five out of the seven fights on the night.
In the amateurs, 16-year-old Queensland state champion Campbell Cobbo-Riley displayed his silky skills and Nathan Carroll, Paulie West, Terry Roberts and Jason Morris all impressed.
In the professionals, Joey Williams showed heart and power to overcome spirited kickboxer Adam King on points. Click the video below to watch highlights of the bout.
Glebe's Edgar "Brown Sugar" Wymarra showed his impressive array of skills that had the crowd on their feet. He defeated tough Filipino Jurland Ceniza over six action packed rounds by unanimous decision.
"Cool" Willie Kickett was unable to fight on the night due to a chest infection.
Aboriginal boxing and sporting identities were out in force including boxers Anthony and Tony Mundine, Robbie Peden, George Bracken, Wally Carr, AFL players Adam Goodes and Michael O' Loughlin and NRL legend Artie Beetson.
Aboriginal performances thrilled the crowd between matches including Idol winner Casey Donovan and rising talent Nellie Dargan.
Alex Wymarra, Head of the Indigenous Sports Academy was thrilled with the night and the turnout.
"The rain was pouring in, the lights gave us trouble but we brought Aboriginal boxing back to the Block in a big way," said Alex.
"We had to turn people away and those that were inside were treated to seven fantastic fights featuring our warriors, some with heart, some with skill, some with both. The room was pumping with Aboriginal pride and what a way to celebrate the anniversary of the apology by bringing legends and future legends together for a night of Koori style tent boxing."
More videos from the night coming soon to Vibe's YouTube page www.youtube.com/user/VibeAustralia