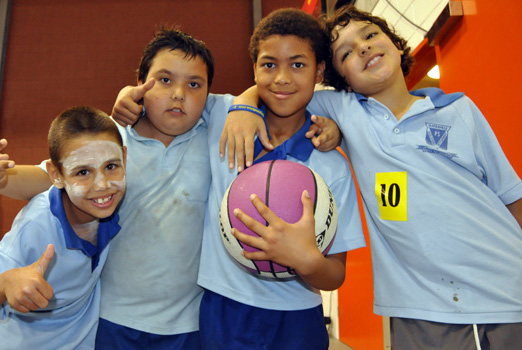 More than 300 young people making up over 60 teams, descended upon the National Centre of Indigenous Excellence (NCIE) for the annual Christmas Vibe 3on3® challenge yesterday. The local community was joined by students from La Perouse, Caringbah and Western Sydney.
Indigenous and non-Indigenous young people interacted with role models on the day including Trent Lake of the NSW Waratahs, former Australian rugby union 7's player Matt Sonter, rapper Mark 'Munkimuk' Ross, Aboriginal basketball star, Black Diamond Claude Williams and boxing legend Tony Mundine Snr.
A highlight of the event was a visit from the Sydney Kings. The Kings, newly back in national competition, sent three players who performed an inspiring shoot out competition, judged the break dancing competition and presented medals to winners.
"Taj McCullough, Damien Ryan and Patrick Sanders from the Kings gave the Redfern 3on3® the thumbs up," event producer Mayrah Sonter says.
"The Kings were awesome and the shoot out competition was a highlight of the day. They also provided 3on3 competitors with free tickets to a Kings' game. I'm really glad we have a home team again."
It was the first time the Vibe 3on3® was held at the NCIE, and 3on3 organisers were pleased with the venue.
"It was a great way to cap off year – rain didn't dampen the spirits or the passion of competition. It's the best Sydney 3on3 event yet!," Mayrah says.
The Vibe 3on3® was opened by Michael West of the Metropolitan Local Aboriginal Land Council. The day included art classes, 3on3 basketball games, rap workshops and hip hop classes. Other dignitaries included the Member for Sydney, the Hon Tanya Plibersek MP, and her eight week old baby Louis, and the Sydney Kings' General Manager Bob Turner who spoke about the passion of basketball at the opening.
Local sponsors City of Sydney Council, Redfern-Waterloo Authority and the Redfern-Waterloo Lions Club showed great support for the event, as did the Redfern Aboriginal Medical Centre, who provided medical staff on the day to deliver healthy messages and information to students.
The Vibe 3on3® would not be possible without sponsors Rio Tinto Aboriginal Foundation, the Department of Health and Ageing, through the Office of Aboriginal and Torres Strait Islander Health, and Vibe Australia. Supporters include the Koori Mail, Deadly Sounds and Deadly Vibe.