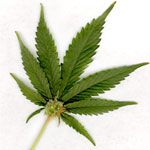 Marijuana use has been linked to an extremely aggressive form of testicular cancer, scientists have said in a study published this week.
After studying a group of 369 American men aged between 18 to 22 with testicular cancer, and 979 in the same age bracket without the diseases, it was found that marijuana users were 70 percent more likely to develop the cancer.
The findings, reported in the journal Cancer, suggest risks are highest among men who have been smoking marijuana for at least 10 years, use it more than once a week, or started using the drug in their teens.
The study is the first to explore possible links between marijuana and testicular cancer and found the increased risk appeared to be in the form called nonseminoma testicular cancer.
This particular type of cancer accounts for 40 percent of cases and can be more aggressive and more difficult to treat.
Testicular cancer often strikes men in their 20s and 30s.
Chronic marijuana use also can have effects on the male reproductive system including decreased sperm quality.