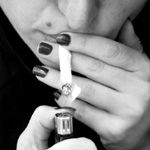 Lungs aren't the only part of the body that can develop cancer from smoking.
We all know that smoking can cause lung cancer, but you may not know that it can also increase your risk of developing cervical cancer by up to 60 per cent.
Recent statistics show that 49 per cent of Indigenous women smoke, which means we're at very high risk of developing this preventable cancer. There's never been a more important time to face facts, so if you're aged between 18 and 70 put aside the shame job and line up for your regular, two-yearly Pap tests.
Deadly Vibe caught up with Thursday Island health worker Doseena Fergie to find out what you can do to stay healthy for you, your kids and your community.
Doseena, an Aboriginal health worker with Eastern Health in Melbourne, has been working in Indigenous health for 10 years and is as passionate as ever about keeping our mob healthy.
"I became involved in Indigenous health because of what I felt was a great social injustice, and I thought why should we have such appalling statistics when it comes to our health?"
Once Doseena got involved she stayed involved to ensure our communities have better health outcomes. As a health worker, she believes one of the most important issues facing Indigenous health is our high rate of smoking
"You and I both know that smoking in the Indigenous community is huge because people are highly stressed. A lot of this goes back to history and unresolved issues. Even many of our health workers are smokers. I think we need to advertise our success stories and let people know that there are people who've given up. We need them to tell their story."
If you want to quit smoking it is important to look at the 'triggers' that make you want to smoke to see if you can reduce the stress that causes you to light up in the first place.
"Most people want to give up smoking but their circumstances are such that they don't have the energy to give up and stay off them," says Doseena.
"We need to reduce those stressors in people's lives, so they are better able to quit successfully. We should all be helping each other to do it."
With the new link between smoking and cervical cancer, Doseena believes it is even more important to give quitting cigarettes another go:
"Research has found that the chemical components of the cigarette are being found around the cervical area and those components can interrupt the cell's makeup or DNA. Once this happens, cells can get damaged and this can cause them to grow in the wrong way and perhaps lead down the path to cancer. 'Cancer' simply means that cells multiply quickly or are abnormal and don't allow your organs to function properly. Cancer comes in various shapes and forms that, ultimately, mean the body doesn't function.
"For women, cervical cancer is dangerous because you can't see it – and if they're not having regular Pap tests, then by the time they find out it can be too late."
The good news is regular Pap tests will help detect if the cells around or in the cervix are healthy; if they aren't healthy, it doesn't necessarily mean you have cancer. In fact, there are plenty of warning signs that can be picked up by regular checks before you ever reach the cancerous stage.
"There are three stages from 'not so bad' to 'worse' that we can treat along the way before you get cancer. That's why cervical screening is so important. We have got high cases of young women being pregnant early and having unsafe sex and therefore being at risk of getting sexually transmitted infections – so we need to be especially careful."
Cervical cancer can develop from a sexually transmitted infection known as the HPV (human papillomavirus) and women should begin having Pap tests at the age of 18 or two years after commencing sexual activity.]
"Because of the shame factor a lot of younger women may have the virus and they don't have it treated. We need to break down the barriers and have yarn-ups about it. When we have women's business and we go away on camps together we need to make sure that is one of the topics we talk about it. We need to talk about it and encourage young women to care about themselves and to come in to their local Aboriginal Medical Service," says Doseena.
"As women, often we don't care about ourselves. We always think about family, but we don't think about ourselves – we think it won't happen to me. I've had numerous relatives die from cervical and breast cancer and the grief and the loss is insurmountable."
If you have any questions about cervical cancer, Pap tests or HPV, call your local Aboriginal Medical Service or phone the Cancer Council Helpline on 13 11 20. You can also visit www.papscreen.org.au.