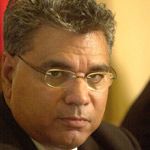 Aden Ridgeway and Warren Mundine have both been national political party leaders, an important step towards electing our first Indigenous Australian Prime Minister.
You don't just get a black US President out of nowhere. Barack Obama's victory was possible because of the many African American leaders who paved the way for him.
When we finally elect our first Indigenous Prime Minister, he or she will have many people to thank for their victory. Beginning with our earliest freedom fighters, inspirational people have led the way from securing the right to vote to voting for Aboriginal politicians.
The first Aboriginal person voted into Australia's Federal Parliament was Senator Neville Bonner, who served from 1971 to 1983. Other Indigenous politicians and leaders have followed, making inroads into our political and legal systems and firing up our imaginations about what is possible.
In the Australian political system, the Prime Minister must be the leader of the Federal party that receives the majority of the votes. Already there have been two Aboriginal politicians, Aden Ridgeway and Warren Mundine, who have been very close to that seat of power.
Aden Ridgeway became Deputy Leader of the Australian Democrats in 2001.
During his term as a NSW representative in the Senate from 1999 to 2005, he was the only Aboriginal person in the Federal Parliament.
"Personally it was an exciting moment and one that I feel very proud of but also the significance of the moment wasn't lost on my family and the broader Aboriginal community," Aden says. "While the party had its own problems, I still think that achievement opened the way for many young people to see politics as a real career option and to follow that dream.
"The reaction and response from the entire Aboriginal community was almost one of disbelief that a black man could be elected to office, particularly in a country where we'd only had two Aboriginals in Federal Parliament, including me.
"It meant that you could aspire to being a parliamentary leader and that helped break new pathways for young people to come behind. But my grandmother used to say when she was alive, 'Now that you're home you don't always have to have a big head'. So that was always a good way of keeping measured and balanced about the responsibilities of who you were and where you came from."
Aden believes that finding a balance between the responsibilities of a politician representing all Australians and an Aboriginal man aware of the needs of his community was crucial for him. He also believes that if we are to have an Aboriginal Prime Minister they will also have to learn how to walk this fine line.
"I was very mindful of this and in my first speech I made the comment that if I was to be effective as an elected Senator I had to combine the attributes of being Aboriginal and being Australian," Aden says. "What I'd experienced growing up was there was this contest between being wholly Australian or wholly Aboriginal but I think you can be both. That's the message I wanted to deliver, that we can hold onto our identity, our culture and those things that give us nourishment but also perform in the mainstream camp.
"Essentially it is being bi-cultural that will lead to success. In my role I wasn't only caring for Aboriginal Australians but all Australians. You have to do that so that people will continue to support you. It was a balancing act, walking the line between two different cultures and two worlds. There are only a handful of us that do that and the rest of us feel the need to take one side or the other."
Now the Executive Chairman of Indigenous Tourism Australia, Aden recalls his career was inspired by the first black face he saw in national politics.
"My mother said that I used to talk about it when I was ten years old. I can't really recall it but I know it was around that time that Senator Neville Bonner was elected. We had a black and white TV and on the national broadcaster two things were happening. South Sydney was winning grand finals and Neville Bonner was being elected, so I've followed those paths of football and politics ever since."
Warren Mundine was the first Indigenous president of a national political party in Australia. He was the 2006-2007 President of the Australian Labor Party, a non-parliamentary position elected by Labor Party delegates at their national conference to preside over party matters.
"I was unusual in a lot of ways because I was the first Aboriginal to lead any major political party so that was a great honour for me," he says. "When I became President a lot of people were saying, 'Who is this blackfella from Dubbo being elected national President?'
"I was totally innocent at the time about what that meant – I just thought I'd give it a go. To be elected you had to win over all 40,000 members of the Labor Party and a lot of people had never even heard of me. Up until that stage all the previous Presidents had been union Presidents and I came out of nowhere and caused a bit of an upset.
"I came about at a time when people were looking for change and they wanted leadership to help forge that change. People knew me as a no-nonsense, down to earth bloke. I wanted change too because I was sick of the Howard years. Anyway we won the election and here we are today."
Warren remains passionate about the nurturing of more Aboriginal and Torres Strait Islander leaders.
"I talk a lot in schools and I remember there was a young bloke who asked me, 'What was your plan or strategy?' I told him that if I'd had a plan to become national President they would have locked me up!
"I don't plan these things. I just do things. I see something and I've got to fix it. That's a Mundine trait. So it wasn't any great strategy, it was just about helping fix things. My mum was a strong Aboriginal Catholic woman and she embedded in us that we should help other people."
Warren says that coming from a family known as being as outspoken has actually been a blessing when it comes to leadership as he believes that is a necessary trait for anyone wanting to make a difference in their community.
"Mundines are not short of an opinion," he says with a laugh. "We were blessed in a lot of ways in that we never really knew 'our place'. Even though we grew up in a time when we had dog tags and people told you where you could live and go to school, the Mundines were a funny group in that situation because we never knew our place and so we used to go to places we weren't meant to go.
"My dad bought his first house in 1947 and when I was a kid everyone was shocked about a blackfella owning his own house in South Grafton. But we were always taught pride in who we were from my grandparents and parents and aunties and uncles. We were Bundjalung people and we were brought up to pay respect and put 100 per cent into whatever we did."
Warren says that growing up, his family experienced prejudice but he believes that it is important to not let those experiences define you. Rather he encourages anyone who wants to be a leader to be grateful for their culture and to focus on what they can give back to their community.
"Even when we were coming out of pretty tough places like Tabulam we knew we were blessed that we came from such good stock and that's what drove us on. We just thought it was natural that you got up and went to work and went to school and didn't cop flack from anyone and fed your family and contributed.
"I'm one of eleven kids but we never turned anyone away at the door. Our house was always full of people. We always wanted to know about things. We learnt about our culture and other people's culture and we saw the world as belonging to us. We were taught as long as we did the right thing and looked after our family then life was going to be good to you."
Currently Chairman of the National Indigenous Labor Network, Warren is dedicated to increasing Indigenous representation within the Labor Party and ultimately within the Parliament.
"We want more people to become leaders and get elected," he says. "Before I keel over I want to see Indigenous Ministers, Premiers and Prime Ministers and the network is about how we can recruit and plan for this.
"It's also about how the party should be planning policies for Indigenous people. It gives me an opportunity to make long term plans for how we get people into parliament.
"When I was in local government, I wanted to see how we could get people from Deputy Mayors to a state and national level. I looked at what they did in America with the African Americans. Now they've got a President, we want to do the same thing here."
While wanting to encourage people to enter politics, Warren admits that it's not the easiest career path to follow.
"Politics is the toughest game in town. It's like being nude in Martin Place, you've got nowhere to hide. Political life can be tough, you have people in your party having shots at you and people on the outside taking shots at you so have to be tough and focused on what you want to achieve.
"If you want to make a change for your people so they can have a better life, then you've got to be able to work your way through a minefield so you get out the other side and also bring other people with you through those minefields."