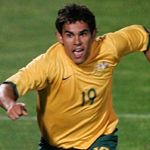 This month's health tips are from international soccer star, David Williams, currently playing for Danish club Brondby FC.
What kind of training do you do?
We train five times a week, which is roughly two hours a day, which is ten am to noon. We have a whole range of warm-ups and slow drills, then you might do shooting, crossing and finish up with a game, that's a basic training session. Maybe twice a week we will have a gym session which is more strengthening exercise.
Do you follow a particular diet?
If you're serious about your game then you're always going to be eating the rights foods. You're not going to be eating ribs or big chicken drumsticks, or anything like that. If my weight starts getting a bit out, maybe half a kilo a week, then I'll cut back down on what I'm eating and work it out from there.
What's the best way to prevent injuries?
Ice is one of the big things that helps, so I ice down for 20 minutes after training. Outside of training I go to the pool a bit, swim, exercise, but I don't do any extra running outside training because we do a lot of running at training, I would run maybe seven to eight kilometres in a game.
What do you do to relax off the pitch?
Just hang out with friends, go to movies, cafes. Sometime I just like being by myself and just playing the guitar.
Do you drink or smoke?
During the season I don't really drink, drinking after a game can always lead to bad things, and smoking, I just wouldn't do it. I mean, some players I know do it but I don't know how long their careers will last.
What type of foods do you eat to stay in top condition?
A lot of salad and rice, pasta, chicken, fish, your basic red meats. Rice and pasta are the ones before games to eat so you get energy. Chicken is good because it digests the quickest.
Do you have any tips for young sportspeople out there?
Just work hard. Keep your mind set on one thing, place yourself around people who can help you get to where you want to go.