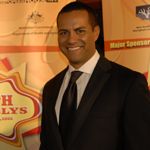 The eternally charming TV host with the most Michael Tuahine switches on to the Deadly Vibe Celebrity Health quiz.
Tell us about your diet – do you eat enough fruit and vegies?
I make sure I have at least two pieces of fruit every day. Apples and watermelon are my favourite. I think all vegies are great and I eat them regularly.
What's your favourite food?
I have two – pasta and seafood. So a pasta marinara is probably my favourite!
Do you enjoy being active? What do you do to keep fit?
I really enjoy exercise – it's good for the body and it's great for stress relief. I box, cycle and swim, and I go scuba diving when I can.
Why do you choose not to use drugs?
Drugs have never interested me. They do too much damage to the body and the mind.
What do you do when you're feeling down?
I love music. When I'm feeling down I play my guitar to old country songs. Even though country music can sometimes be sad, there's something about it that really picks me up.