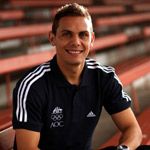 Socceroo defender Jade North has become the first big name signing of the new North Queensland A-League franchise that will begin competing in the 2009/10 season.
After recently missing out on a European contract, North may now remain on Australian shores long term after the North Queensland franchise presented the 26 year-old with a lucrative offer.
North captained the Newcastle Jest to their maiden A-League championship last season and has since represented the Olyroos at the Beijing Games and the Socceroos in World Cup qualifiers.
North Queensland officials have thus far been tight lipped on weather the North deal ranks as the clubs marquee signing.
North is also expected to take on a unique role as an Indigenous ambassador for the club and may soon be joined at the new franchise by fellow Indigenous player Freddy Agius, a talented junior Australian representative player who dropped off the Australian football radar after stints with Adelaide United and Sydney Olympic in the former NSL.
The new Queensland club is set to reveal its name, logo and colors next week.