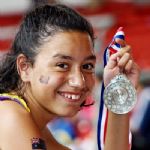 TAHLIA Rotumah admits she is "flavour of the month" among her proud friends and family at home in Tweed Heads.
But her popularity is likely to last longer than a month.
At just 16 years of age, Rotumah, a sprinter with cerebral palsy, has made history as the first Indigenous woman to compete at the Paralympic Games.
"It's a big achievement," she says.
The first Indigenous Paralympian was Kevin Coombs, who competed at the seminal Stoke Mandeville Games in Rome in 1960.
When she was younger, Rotumah struggled to come to terms with her disability.
"I didn't understand, really. Why me?" she says.
"But I have come to my senses. If I didn't have it, I wouldn't be here."
Rotmuah is part indigenous, from the Minjungbal nation, and part South Sea Islander.
She lives in Tweed Heads with her grandmother, Desrae Rotumah, to be closer to her coach and doctors.
Mrs Rotumah, who encourages her participation in sport and takes her to training, is immensely proud of her granddaughter, as is Tahlia's mother, Natalie, and her school friends.
Rotumah took up running in 2003 and first competed for Australia at the Far East and South Pacific Islands Competition in 2006, where she won two silver medals.
She will compete in the 100m and 200m T/F37 events in Beijing. Her first event is the 100m on September 9.
She hopes her performance will be good enough to qualify her for the finals. "But if it's not, better luck next time," she says philosophically.
Tahlia has been nominated for a 2008 Deadly Award in the category of Most Promising New Talent in Sport.