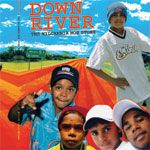 In August 2002 a song called Down River by the Wilcannia Mob became an overnight hit. Five boys, aged 8 to 12, had recorded their own rap lines to a simple didgeridoo beat. Music lovers across Australia were rapt. The song made Triple J's Hottest 100 for 2002 and featured on All You Mob, which was named in the top 10 alternative albums of that year by The New York Times.
Last year, a remix of the song by the London hip-hop artist MIA brought further international praise.
Before the hit song was released, the boys had been just a bunch of enthusiastic kids having fun at a holiday workshop. After Down River was recorded – in just two hours in a Wilcannia living room by Sydney hip-hop artist Morganics – the five were national stars, with the radio putting their single on high rotation and the media scrambling to meet the new "boy band" from far western NSW.
Now this amazing story has been documented in a new book. Down River: The Wilcannia Mob Story is an easy to read, illustrated account of the journey taken by those five young boys, their families and their community. It traces their origins from a makeshift recording studio in a town long forgotten, to centre-stage at the Sydney Opera House and in front of 20,000 fans at the Homebake Music Festival in Sydney in December 2002.
The book also tells of Barkandji country and its people and acknowledges the artists and youth workers who helped to make a dream reality. Down River also contains interviews with the boys, their families and community.
The author of Down River: The Wilcannia Mob Story, Melinda Collie-Holmes, was the Artistic Director of the Shopfront Theatre for Young People when she visited the community of Wilcannia as part of an outreach project. She was inspired to write the story when she realised that it could be a catalyst for good things to happen to many others, and could help keep "the river of hope flowing in the hearts of Australia's rural communities".
Down River: The Wilcannia Mob Story shows us how fame and success can come to any one at anytime and that when hearts are open and people work together, anything is possible.
Down River: The Wilcannia Mob Story (Aboriginal Studies Press) is available from all good book stores and from www.downriver.com.au