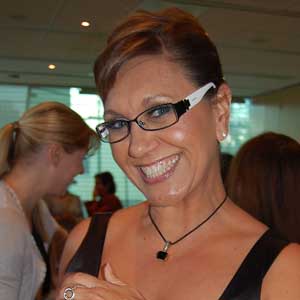 For Wiradjuri writer Anita Heiss, life is a whirlwind after the publication of her fourth fiction book in the writing genre of Koori Chick-lit. It's a genre that Anita has developed, forging the way as the first Indigenous person to write entertaining, popular fiction aimed at the commercial market, while also educating readers about Indigenous concerns.
After launching her book Paris Dreaming, Anita says it's an anxious time as she waits for the sales figures and public reaction to filter in. In the meantime, she continues an exhausting promotional tour of the book with multiple launches in many public locations and bookstores around the country.
In writing her books, Anita says her intent is to get Indigenous content on the page for audiences who may never have read books by blackfellas. She also hopes that it will inspire those Indigenous people who aren't avid readers to pick up a book.
"Some Aboriginal women say, 'I never read books, but I read your book in three days'. I hope that young Aboriginal women who don't see reading as an everyday activity will pick up my books. That's important for me," says Anita.
Despite a punishing schedule, Anita's also started writing a new book. This one is a memoir, a record of her life and experiences, titled Am I Black Enough For You?
Deadly Vibe asked Anita how she manages to do it all?
"I write in blocks of time. I first sit down and do an essay plan for the whole book. I do that for every chapter. Then I write a page for every single main character, their name, description and quirks, so I understand their personalities as I'm writing. I also write a 500-word synopsis to begin with. This all makes it clear for me to write about where I'm going," said Anita.
She's also very disciplined when writing and can complete a book in around eight weeks. Anita says she sits at her desk and writes for periods of three to four hours every day, including the weekend, when working to a deadline.
"Most of the time (I spend) writing my books is spent thinking. I'll virtually have it all in my head – the idea, dialogue or the setting. Writing the novel is just a matter of putting it on the paper," she says.
An added bonus is that Anita actually gets to go to the locations where her books are set to do 'research'. While she's away in faraway places, such as Paris and New York (and even Deniliquin, NSW), Anita takes meticulous notes.
"I always have lots of little notebooks in my handbag and write things down. What's on the menu, who the customers are, what staff are wearing, the music in the background… The job of a writer is really to observe. I do that using all my senses," she says.
She says some of the personalities in her books are loosely based on people she knows, but she makes up what they look like and their personalities and stories. She finds this gives her more creativity and enables her to make different types of characters and talk about the achievements of people she knows.
As a young person Anita said she never imagined emerging as a writer and is humbled by her success to date, particularly in forging a pathway to create books that are being allocated for use in the national school curriculum.
"I want to give people some insight into the diversity of Aboriginality, not an Aboriginal experience," she says. "I'm not trying to write about everybody. It's just me and my life and women I admire living in a major city, and most Aboriginal people live in urban centres."