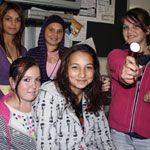 One of the most important ways to improve the health and well-being of Indigenous people in rural and remote communities is to encourage more Aboriginal and Torres Strait Islander people to work in the health industry.
And there is so much more to a career in health than just being a doctor or nurse, which is what a group of young Indigenous Queenslanders learned recently when they paid a visit to the Toowoomba Campus of the Southern Queensland Institute of TAFE for a special Indigenous Health Careers Workshop.
Twenty-four high school students were chosen to attend a five-day visit to Toowoomba, Ipswich and surrounds to investigate the education, training and employment opportunities available in the health industry.
Group mentor and Toowoomba Health Service Indigenous Health Worker Alfred Orcher says the idea behind visits such as these is to target young people interested in health careers and give them information about rewarding health professions.
"We give them exposure to training institutes early in their high school years," says Alfred. "It's imperative to plant the seed for a career early on, when young people are just starting to think about their career pathways, and this program encourages them to explore opportunities available through the health industry."
The students learned some basic skills such as how to take blood pressure, looked at the causes and symptoms of various diseases such as diabetes, and met with Indigenous Primary Health Care staff, who are right at the coalface of community health.
Southern Queensland TAFE Indigenous Business Manager Shannon Bowe said TAFE had a lot to offer those seeking careers in the health industry.
"As well as Indigenous Primary Health Care, we offer certificates and diplomas in Nursing, Aged Care, Children's Services, Youth Work, Disability Work, Home and Community Care and Disability Work," he says.
"By choosing a career pathway with TAFE, you're embarking on a journey that could see you back helping your friends and relatives in your own community, working in regional centres around the country or moving up the corporate ladder to the decision-making realm of the health industry and directing healthy policies for your people."
The program was funded by Queensland Health and the workshops are conducted annually for rural and remote Aboriginal and Torres Strait Islander students.
For more information, contact Barbara Pershouse at the Toowoomba Campus on
(07) 4694 1985 or visit the website www.sqit.tafe.qld.gov.au