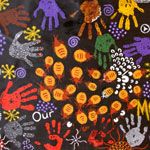 For the third consecutive year, Adelaide Festival Centre is proud to present Our Mob, a statewide celebration of remote and regional South Australian Aboriginal artists, on display in the Festival Centre Artspace and foyers from 2 August – 7 September 2008.
Exhibited during the South Australian Living Artists (SALA) Festival, the exhibition features work by over 90 different South Australian Aboriginal community artists from the state's coastal areas, mid and far north, the Flinders Ranges and the Riverland. For the first time in 2008, the exhibition also includes artwork from artists in Oak Valley and Yalata. Artworks are selected from submissions in a variety of media and all are available for purchase. This exhibition continues to build on the strong links and relationships that have already been forged between many arts organisations around the state and the Adelaide Festival Centre.
Our Mob 08 also includes an artists-in-residence and schools program on 6 and 7 August, when visiting Oak Valley and regional artists will be demonstrating their work in the Artspace.
For the first time, Our Mob 08 is held alongside Our Young Mob in the Festival Theatre foyer; an exhibition exclusively for South Australia's young Indigenous artists.
Adelaide Festival Centre CEO & Artistic Director, Douglas Gautier, says, "We have been delighted with the response to Our Mob since its inception and are proud to once again present this exhibition: the culmination of activity throughout the state in which the Festival Centre has collaborated with Aboriginal artists, our partners in the arts industry and community arts organisations in regional and remote areas. We recognise the diversity of experiences of Aboriginal people throughout South Australia and through art, and we welcome this opportunity to learn the stories of Aboriginal histories that reflect on the past, their lands, their environments and cultures."
The exhibition will be officially opened on Tuesday 5 August at 6:15pm by Ken Lloyd, Director of Country Arts SA, and Our Mob 08 Aboriginal artist Maryvn McKenzie. Entertainment will be provided by Indigenous Adelaide-based rock and blues group The Sonny Keeler Band.
After 7 September a selection of works from Our Mob 08 will be toured by Country Arts SA to regional venues around the state.
Our Mob 08 is supported by the Maralinga Tjarutja Trust and Arts SA.
Also make sure to visit Our Metro Mob, showcasing work by a selection of Adelaide-based contemporary Australian Indigenous artists at Tandanya from 25 July – 28 September, and launched on 31 July. In 2008 Our Metro Mob will demonstrate examples of current developments in South Australian Metropolitan Indigenous art practices from many artists in different stages in their artistic careers.
What: Our Mob 08
Venue: Artspace, Adelaide Festival Centre
(Access via Festival Drive, or Dunstan Playhouse Foyer)
Disability access via Festival Bridge from North Terrace, or AFC Amphitheatre ramp
Hours: 12noon – 5pm Wednesday – Saturday, 10am – 4pm Sunday
When: 2 August – 7 September 2008
Cost: FREE entry (all works for sale)
For further information check out: www.adelaidefestivalcentre.com.au
Media Contact:
Sophie Gardner (08) 8216 8540 or 0431 210 131
[email protected]