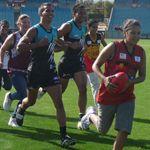 Three hundred students from ten South Australian schools will participate in the second annual Aboriginal Power Cup this year with the Grand Final to be held on August 29.
The Cup is a joint initiative of the Attorney-General's Department and the Port Adelaide Football Club with support from the South Australian Aboriginal Sports Training Academy and the SANFL.
The Power's Indigenous players were joined by students from participating schools and Attorney General Michael Atkinson and Government Minister for Youth Tom Koutsantonis for the launch of this years Cup at AAMI Stadium.
"The inaugural Cup was hugely successful so we're expanding it in 2009. Double the number of students will get active and learn how to lead happy and healthy lives," Mr Atkinson said.
"I'm excited to welcome four new schools to the competition: Christies Beach High School, Port Augusta Secondary School, Coober Pedy Area School and Windsor Gardens Vocational College."
With a competitive football carnival as its centrepiece, the Cup focuses on engaging young people in education, promoting healthy lifestyle choices and developing teamwork, leadership and life skills.
Power players including Danyle Pearce, Daniel Motlop and rising star Wade Thompson (who coached last year's winning boys team) will visit schools to educate and inspire Aboriginal students.
To reach the final, teams must attend school, complete school work, design team guernseys, write a club song, contribute content for a website and demonstrate team work on the footy field.
The Aboriginal Power Cup was developed in response to Monsignor David Cappo's To Break the Cycle report and is based on a successful U.K. model. The Cup is designed to give students the information and motivation to lead happy and healthy lives free from crime.
"The Aboriginal Power Cup has already kicked goals – on and off the field," Minister for Youth Tom Koutsantonis said.
"Last year, school attendance increased up to 23 per cent among students who took part in the Cup. That means a better education and a brighter start to life for these young people," he said.
The schools participating in the 2009 Aboriginal Power Cup are Ceduna Area School, Christies Beach High School, Coober Pedy Area School, John Pirie Secondary School, Para West Adult Campus, Port Augusta Secondary School, Port Lincoln High School, Wiltja Program, Kaurna Plains School and Windsor Gardens Vocational College.
The Cup program includes separate boys and girls teams from each school. It will culminate in a carnival at Alberton Oval in August. The Grand Final will be played at AAMI Stadium as a curtain-raiser to the Power v Kangaroos match on Saturday, 29 August.
The State Government is investing almost $300,000 over three years in the Aboriginal Power Cup as part of a strategy to prevent young people becoming involved in crime.
"Fun is the best way to show young people that there are alternatives to crime and unhealthy lives. Through sport these students are learning skills that will help them deal with life's troubles and steer away from danger," Mr Koutsantonis said.
"Last year, one student commented that the Cup was the best two days of his life so far. I'm sure everyone involved this year will have just as much fun."