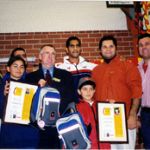 Winner: Tjimarri Sanderson-Milera and Rebecca Gray
School: Challa Gardens Public School and Alberton Primary School (Adelaide SA)
ADELAIDE SIZZLES FOR A SYDNEY SWAN
The Deadly Vibe BBQ team jetted in to Adelaide on Thursday, 20 June to reward two students who had won the 'Take An Ambassador To School – My Story' essay-writing competition.
Sponsored by the Commonwealth Department of Education, Science & Training (DEST) through its National Indigenous English Literacy & Numeracy Strategy, the barbeque featured a visit from Literacy & Numeracy Ambassador Michael O'Loughlin.
This time around there were dual winners for Terms 3 and 4: Rebecca Gray from Challa Gardens Public School, and Tjimarri Sanderson-Milera from Alberton Primary School. Because the schools are close together, it was decided to hold a combined barbeque at Challa Gardens.
More than 250 young people crammed into the assembly hall for the proceedings, which began with a Welcome to Country by the Kaurna people, traditional owners of the land.
Sydney Swans legend Michael O'Loughlin followed this with an inspirational speech, which had all the students hanging off his every word. He and Vibe managing director Gavin Jones then presented the two winners with a prize pack and special plaque. Well done to Tjimarri and Rebecca!
After that everyone moved outside to the barbeque area, where the aroma of sizzling sausages, onions and chicken drumsticks was making everyone hungry. For such a large gathering of people, lunch was a clockwork affair with students, parents, teachers and staff feasting on meat, salad and fruit juice. There was even enough for second helpings!
The highlight for many students occurred after lunch. Michael took up his pen and kindly signed posters, magazines, T-shirts and just about anything else students could get their hands on.
Then it was time for a footy clinic out on the field – and it's not every day that you can get tips on the finer points of Aussie rules from a bona fide AFL legend. If many of the students were looking forward to one day becoming an Adelaide Crow, some were entertaining the thought of becoming a Swan by days end!
A big Vibe thank you to Michael O'Loughlin for the patience, commitment and professionalism he displayed on the day. Thank you also to the staff and volunteers who helped make the barbeque such a success