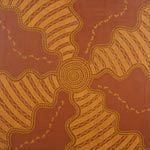 Artworks by 19 Indigenous inmates in Victoria were a highlight of Melbourne's premier Indigenous arts festival, Yalukit Willam Ngargee, as part of the St Kilda Festival.
The exhibition Confined II, hosted at the St Kilda Town Hall Gallery, was a major event at Yalukit Willam Ngargee (meaning People, Place, Gathering), which celebrates Boon Wurrung Country (the bay area), a significant meeting place for Aboriginal people for thousands of years.
The exhibition featured 45 works from Aboriginal inmates at six Victorian correctional facilities: HM Barwon, HM Loddon and HM Ararat Prisons, The Metropolitan Remand Centre, The Dame Phyllis Frost Centre and The Marngoneet Correctional Centre.
On opening night, Indigenous curator and artist Brian McKinnon, who compiled the exhibition, said, "… these artists have taken several different popular styles and successfully blended these styles together. In doing so they have created their individual voices, giving birth to a whole new style of urban Aboriginal Art, a style of their own."
The exhibition is the second one to be coordinated by The Torch Project, a creative community arts organisation, to highlight the high rates of Indigenous people incarcerated in Victoria. On opening night, the Commissioner for Corrections Victoria, Bob Hastings, said that Indigenous people are 13 times more likely to be incarcerated than non-Indigenous people in the state of Victoria. Statistics show that Indigenous people represent 0.6 per cent of the Victorian population but make up 6 per cent of people in prisons.
On opening night, The Torch Project's Executive Officer, Michelle Chiller, said, "The community cannot expect government alone to be responsible for delivering strategies that address the gross over-representation of Aboriginal people in our correctional facilities. This is a much larger community issue, deserving of innovative community responses and partnerships. The Torch recognises that art is a crucial way of reinvigorating and expressing culture."
The works, which were not for sale, showed an amazing array of colour, styles and influences used by the inmates who are finding their own voices through art.
Brian McKinnon said, "In the way that the artists are blending these styles, they are creating their own songlines, stories relevant to them and how they see their country and culture … the same as their brothers and sisters in remote communities they, in a lot of instances, are recording history and documenting their lives and association with country and culture for future generations."