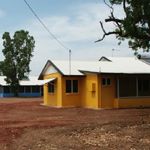 According to a government audit, Aboriginal housing in outback Western Australia is in need of a $540 million upgrade.
The audit found that over 90 per cent of the 2,400 houses that were inspected in remote Aboriginal communities in WA required urgent upgrade work.
The costs of the upgraded averages out at more than $225,000 for each house, totaling a cost of around $540 million to upgrade the full housing list.
WA Housing Minister Troy Buswell described the findings as "frightening" but also said that he was not surprised, considering many of the houses were over 50 years old.
"The cost estimates for a major upgrade of every single house are frightening indeed and beyond the state government's capacity in the short term, because it would not end there," Mr Buswell said in a statement.
"A lot are to be found in small clusters in out-of-the-way places where the standard of essential services is also often an issue.
"Before we could ever set out to bring every property up to scratch, we would first have to take a hard, honest look at the sustainability of some of the smaller communities involved."
Conducted in consultation with federal government, four audit teams visited 130 remote Aboriginal communities over a period of six months.