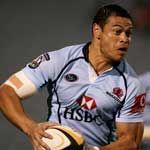 Deadly Vibe Issue 134, April 2008
The NSW Waratahs are counting on two talented Indigenous footballers to help turn their fortunes around – Timana Tahu and Kurtley Beale.
Nothing creates sporting headlines quite like a big name football defection, and as the age-old rivalry between league and union continues to simmer, more and more stars are crossing the code barrier, lured by big bucks and fresh challenges.
Nathan Blacklock, one of league's most prolific try-scorers, did it back in 2002. Andrew Walker made the switch a few times. Wendell Sailor swapped State of Origin maroon for Queensland red and later Waratah blue. Former Broncos and Queensland winger Lote Tuqiri is perhaps the highest profile code breaker of them all.
And now there is Timana Tahu, the latest rugby league star to create headlines by quitting league for "the game they play in heaven".
It came as quite a shock to league fans when, in the middle of the 2007 season, Timana announced his signing with rugby union club the NSW Waratahs. For league fans, losing one of the code's true entertainers and best attacking players was a disappointing blow. But embattled Waratahs fans were thrilled at the prospect of the classy Tahu slotting into a Waratahs' backline which already boasted fellow big name league convert Lote Tuqiri.
"It's an exciting time in my career at the moment," Timana admits. "Having achieved a lot in league I really wanted the challenge of playing rugby at a high level.
"I like the direction rugby is heading in, particularly the Waratahs. And although I'm out at the moment, I've signed a four year contract and am in it for the long haul."
It seems a new code, a new club and new teammates have not saved Timana from old injury problems, with his start in rugby union being a rocky one.
The Waratahs have thus far earned themselves the tag as the Super 14's perennial underachievers, and so it was hoped Timana's signing would help spark the Waratahs to a winning season. But after playing in just three matches, he has been forced to the sidelines after tearing his hamstring at training.
Rather than rush him back as soon as possible, the coach made the bold decision to give his star singing ample time off in order to treat the injury properly.
"It's been hard work getting through the injury and doing the right things to get back on the paddock," reveals Timana.
"Since I've been out, the guys have won five games from six, so you want to be a part of that, but you know if you come back too soon you'll end up being on the sideline for even longer."
This latest injury comes on the back of startling revelations by Timana that the same hamstring injury had plagued him for much of his career in the NRL, meaning he had not been able to run at full pace since his very early days with the Knights. This is amazing, considering what he achieved over his league career.
While Timana has only had limited opportunity to showcase what he is capable of on the rugby union field thus far, he has enjoyed the challenge of learning and adapting to the new game.
"I felt I was improving each match," he says. "But it's a completely different game to read than league, so I think those early matches I was picking up on different things every time I played.
"But my main goal at the moment is just to get back on the paddock."
As Timana now waits to rejoin the Tahs' campaign, the pressure of salvaging the team's season has fallen onto the shoulders of their other Aboriginal star, precocious half Kurtley Beale, playing in only his second season of Super 14 Rugby.
"Kurtley is pretty amazing for such a young kid," Timana says. "He's got an experienced head, and he's not arrogant, which is good for someone his age.
"He's pretty motivated to keep learning the game and is more concerned with the team than himself. He doesn't let any of the hype or criticism get to him; he just gets out there and enjoys his training, enjoys his footy."
Touted as the best young rugby talent in the country – Kurtley's debut Super 14 season could best be described as a true baptism of fire, after he mixed it with some of rugby's biggest and best players only a few months out of finishing his HSC. While he struggled in parts, the sharp learning curve and experiences gained will undoubtedly put Kurtley in good stead for the coming season.
While the Tahs have gotten off to an inconsistent start to the season, Kurtley has already shown great improvement from last year.
Meanwhile, Gary Ella – the man who discovered Kurtley as a 14-year-old – has called for Kurtley to be drafted into the Wallabies' line-up, claiming he has already proven he has what it takes to make it on the international stage.
With so many seasons ahead of him, there is certainly plenty of time for Kurtley to make the Australian number 10 jersey his own. For Timana, at 27 years of age there is also plenty of time for him to make as big a splash in union as he did in league.
"I'm only 27 and have signed for four years," he says. "I wouldn't have done that if I didn't think I could still improve and have a lot to offer."