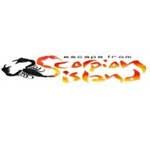 The ABC are currently casting for the upcoming series, Escape from Scorpion Island and are encouraging Indigenous school children aged from eleven to thirteen, to apply for a chance to be involved in this exciting opportunity.
Escape from Scorpion Island is an amazing adventure show for kids. Sixteen children are marooned for three exciting weeks at a secret location thousands of miles away from friends, family and school! They must compete in a series of high-octane stunts and challenges in order to win the race to escape and make their way back to civilization.
Following the huge success of the first series on Children's BBC, the ABC has commissioned Freehand Productions to work with the British producers, RDF, to produce two further series in Australia.
The Location
Scorpion Island is the name of the fictitious island where the show is based. The filming location will be in mainland Australia.
The Challenges
Each series involves twelve children from the UK and four from Australia taking part in a series of extreme challenges and stunts. Working in teams and individually, the aim is to win the race to escape from the devious clutches of Scorpion Island.
There are a range of extraordinary challenges over the series. Some of them are physical and some more cerebral. The children will be challenged to participate in stunts that could include rock climbing, abseiling, para-gliding, cycling, bungee or swimming – but always with a twist. Some challenges require physical strength and agility others require problem solving skills. All of the challenges will test the children in new and exciting ways.
Prizes
There are no prizes for winning – just the satisfaction of doing your best and beating the Island.
Accommodation
The children live in a very comfortable purpose built camp for three weeks where they are looked after by a team of professional chaperones. The children will be involved in filming five days a week. At the weekend they will have free time to enjoy life in camp with their new friends.
Catering
A team of professional caterers will provide nutritious and varied food for everyone on the production including the children.
Experience
This is a once in a lifetime experience for 8 Australian kids (four for each series). They will be drawn from all over Australia and be joining a group of kids from different parts of the UK. They will face extreme challenges on a daily basis and try things that will make them the talk of the play ground. We know that the children who took part in series one found it to be a fantastic adventure – they pushed themselves to the limit to do the best for themselves and their team mates and had a ball doing it!
Welfare
Scorpion Island has a competitive element but it's prime objective is to be fun to watch, and to be on! The producers are experienced in creating shows with children and the welfare of the contributors is of the utmost importance to all involved.
The ABC and BBC have set guidelines for the involvement of children in television programs and these, together with the regulations set out by the Queensland Government through its Department of Industrial Relations (which is responsible for Child Employment), will form the backbone for the productions guidelines for child welfare. The producers take responsibility for complying with these guidelines.
Involvement
To take part in Scorpion Island children will need to available between the 26th July and the 16th August 2008. Regulations vary in different states as to what schooling – if any – they are required to have during that time. While it is clearly difficult for a child to participate in 'normal' schooling, there may be a special project that children can do in lieu such as keeping a detailed journal, doing a project or other work set for them by their teachers. It is anticipated that they would miss a maximum of 15 days schooling during the shoot and one additional day during a special audition weekend a month prior to the filming.
The ABC is committed to diversity both on and off screen.
How to get involved
If you would like children in your school to have an opportunity to participate in this once in a lifetime experience, please distribute the leaflet to children and their parents. Please find attached, a copy of the application form, which can also be downloaded via the ABC and Freehand Productions websites. This needs to be completed and returned back to us by 6th June. The websites also feature video footage from the first series of Scorpion Island. Please take a look at:
www.abc.net.au/rollercoaster/scorpionisland