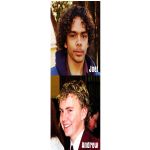 Story: The Future's Bright
Two Indigenous high school students were recently awarded scholarships to the Professor Harry Messel International Science School (ISS).
Joel Bruce from Casuarina in the Northern Territory, and Andrew Sampson from Quirindi in NSW attended the two week course at the University of Sydney in July this year. They were the first Indigenous students to attend the school.
140 students from across Australia and around the world gathered at The University of Sydney for the 33rd International Science School, Waves of the Future. Students from Australia, China, Japan, Malaysia, New Zealand, Singapore, Thailand, the UK and the USA enjoyed two weeks of scientific lectures, activities and social events.
Both applied for the scholarship through the school's Indigenous Scholarship Program. This program was set up in conjunction with the Department of Education, Science and Training to encourage Indigenous students to apply to the ISS, and inspire them to consider careers in science and technology.
Joel is currently in year 11 at Casuarina Senior College in the Northern Territory. His science subjects for 2005 include physics, pre-mathematical studies, and chemistry. Joel's head science teacher says that he has a "strong curiosity and deep fascination with physics and aviation". Joel attends out of class tutorials and spends his own time searching the web and discussing physics concepts.
Andrew is a year 12 student at Quirindi High School in NSS. He became profoundly deaf after contracting meningococcal disease when he was in Year 6. Andrew's principal says he's a real inspiration who has worked hard to achieve improved results.
In Year 11 Andrew came first in both Physics and Chemistry and received the University of Newcastle Award for Science. Andrew's science progress has been remarkable as he was still adjusting to his bionic ear, which he had implanted in Year 6. This year Andrew also attended the Indigenous Australian Engineering Summer School at the University of Sydney.
The ISS has been running since 1962, and is designed to reward and inspire talented senior high school students who are considering a future career in science.
The Science School runs every two years. The next is in July 2007. Applications will open in early 2007, and the scholarships are competitively awarded to grade 11 and 12 students. In addition to the usual competitive application process, up to five scholarships are reserved for talented Indigenous students.
For more information about the Professor Harry Messel International Science School, go to www.physics.usyd.edu.au/foundation