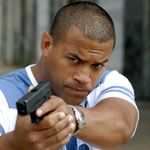 Deadly Vibe Issue 131 – January 2008
Aaron Fa'aoso breaks new ground in his latest foray into TV drama.
STORY: Rudyard Kipling once said: "Oh, east is east, and west is west, and never the twain shall meet". While he was referring to the divisions between Britain and India during the late nineteenth century, the phrase remains as relevant today as it ever was.
Friction and mistrust between those from the western world and those from the world of the Middle East has existed for a long time, but since the horrific events of September 11, 2001, problems between the two have increased, bringing fear and prejudice into our everyday lives.
In a new drama series that premiered on SBS last month, this conflict is personified through the relationship between two men – Zane Malik (played by Don Hany), a Middle Eastern Muslim cop who is torn between his culture, religion and his role as a Detective in a Sydney Metropolitan Major Crime Squad, and his white Australia colleague, Senior Detective Ray Crowley (played by William McInnes).
East West 101 is a groundbreaking piece of television; a six-part series that gives the viewer a compellingly real – at times shocking – view inside the crimes of a big city and the lives of the men who fight them.
Also starring is Torres Strait Islander actor Aaron Fa'aoso, who plays Zane's partner Sonny Koa, a Pacific Islander who, like Zane, finds himself struggling to reconcile his life as a cop and his connection with his culture.
"This is about as real as it gets," Aaron says of the show. "It shows you what's really going on out there – how Muslims are perceived, how Pacific Islanders are perceived, within the police force.
"A cop show like this really hasn't been seen before. It pushes the envelope, all the way through."
To prepare for the role of Sonny, Aaron entered into several months of intensive physical training. He also spent time with the real-life versions of Sonny and Zane, who were the inspiration behind the series.
"The crimes featured in the show are based on real crimes," Aaron says. "The characters are based on real characters. You get a real perspective of what they go through.
"I spent time hanging out with these guys and hearing their stories, and I gained a real admiration for them. The real Sonny Koa is a huge guy, by the way – he towers over me!"
Aaron scored the role of Sonny after the producers saw his work on the acclaimed series Remote Area Nurse (RAN).
"I got the call from my agent that they wanted me to audition for the role," Aaron says. "They weren't really considering anyone else – I found that quite humbling and surprising. These guys (including co-producers Steve Knapman (Wildside, The Leaving of Liverpool) and Kris Wyld (Wildside, White Collar Blue), and director Peter Andrikidis (Jessica, Grass Roots) are the real deal – it was quite an honour to work with them."
Aaron is also joined on East West 101 by his RAN co-star Susie Porter, who plays Inspector Patricia Wright, who heads up the Major Crime Squad.
"The characters on the show aren't just dealing with major crimes," says Aaron. "They also have their own demons to grapple with.
"It's not your stereotypical cop show, and these are not your stereotypical cops."
Aaron also has a few other irons in the fire at present, with a feature film and a Torres Strait Island-themed comedy series both going into production later this year. But right now he is delighted with his involvement in East West 101, and hopes that audiences and critics alike will enjoy watching the show as much as he enjoyed making it.
"I feel honoured and privileged to play the part of Sonny Koa," Aaron says. "I think it's great that we have two non-white people playing the hero detectives. Ten years ago that wouldn't have happened.
"RAN will always have a special place in my heart, not least because I'm from the Torres Strait," Aaron says. "But I'm so proud of this."