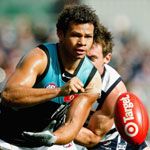 Daniel Moltop has produced one of the top individual performances of the 2007 AFL season thus far, kicking a career high seven goals in Port Adelaide's 64 point thumping of Essendon over the weekend.
The 26 year-old Power star kicked five of his seven goals in the first half, and it wasn't just the number of goals he kicked but rather the manner in which he scored them that had Power fans in raptures.
Motlop dug deep into his bag of tricks to stun the Bombers and enthrall the Port Adelaide crowd. Highlights of the performance included a spectacular banana kick on the run, a forward pocket screamer that never looked like missing, and a freakish fourth quarter snap after a spilled chest mark.
Following the match, Port Adelaide coach Mark Williams praised his star forward, saying he loved nothing more than watching Motlop at work.
"I don't like to put too many reins on Daniel," Williams said.
"He does some of the things that bring people to the football. Everyone underestimates what he does for our club and he's a brilliant team player."
Motlop himself struggled to explain just how he managed some of his miraculous goals.
"I think I just get myself into trouble sometimes," Motlop said.
"I was lucky enough to get out of it this week, we'll see what happens next week."
Port Adelaide now face Hawthorne in a contest that will pit Motlop against Lance Franklin, the AFL's other high flying Indigenous forward who kicked six goals of his own against Collingwood over the weekend.
The stellar performance has also earned Motlop a call up into the Dream Team for next week's Hall of Fame tribute match.