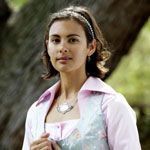 Deadly Vibe Issue 132 – February 2008
A proud Ngoongar woman takes on one of theatre's most famous roles.
[Photo credit: David Johns]
STORY: It's the world's greatest love story – a tale of star-crossed lovers and feuding families, poetry and passion, humour and tragedy. Shakespeare's Romeo and Juliet may be over 400 years old, but this beautiful play still draws audiences in droves.
The latest major production of Romeo and Juliet is currently being staged at the Royal Botanic Gardens in Melbourne by the Australian Shakespeare Company. And, in what may well be an Australian first, an Aboriginal woman is playing the role of Juliet.
Kylie Farmer, whose traditional Ngoongar name is Kaarljilba Kaardn, won the role of Juliet after sending in an audition tape from her hometown of Perth. After having spent most of her career performing in Indigenous productions, 27-year-old Kylie is relishing the opportunity to try something new; stepping away from being typecast in traditional Aboriginal roles.
"It's like learning a new language," she says of the Shakespearean text. "But the more I learn about it and study it, the more I realise that Shakespeare really was a genius."
Kylie has also drawn from her own experiences of love to help her capture the essence of her character.
"Having such a wonderful man in real life has really helped me to play the role of Juliet," she says sweetly.
The play has been modernised for this production, with contemporary clothing and music, including hip hop. The ball scene, during which Romeo and Juliet see each other for the first time and fall in love, also features Indigenous dancing.
"It's a very multicultural production, actually," Kylie says. "The cast includes people from India, Italy and the Netherlands."
Also starring in the production as Tybalt – Juliet's cousin and Romeo's rival – is Indigenous actor and playwright Kamahi-Djordan. Romeo is played by Glenn van Oosterom, who is of Irish and Dutch descent.
The outdoor setting -Melbourne's Royal Botanic Gardens – adds another exciting element to the performance, and has made the whole experience even more exciting for Kylie.
"The atmosphere is fantastic," Kylie enthuses. "There are no restrictions, like there can be in a theatre.
"I also love that after each performance I can walk home through the gardens, and soak up the beautiful surroundings."
While acting is her chosen profession, Kylie's greatest passion is her family and her culture, of which she is immensely proud.
"My culture has been my priority from day one," she says. "My heart and soul are with my home, and family always comes first."
Kylie not only speaks the Ngoongar dialect Balardong, she has also learned traditional skills such as tool-making, hunting and gathering, traditional medicine and making fire, and is dedicated to passing on traditional knowledge to the younger generation.
"I've done a lot of workshops with young kids," she says. "I help them to understand their identity. Before you can go anywhere in life, you need to know who you are, and so I help them to realise who they are and where they come from."
As for taking on any future Shakespearean roles, Kylie is not averse to the challenge, but would love to do more work in film. She has just finished working on Richard Frankland's new film, To Hell and Back, which also starts Luke Carroll.
"Still, acting is a tough business, and beggars can't be choosers," Kylie says cheerfully.
"But I have absolute faith in my pathway, wherever it takes me."