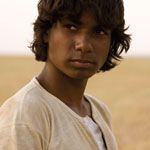 Deadly Vibe Issue 131 – January 2008
A stirring Australian film reveals a surprising new Aboriginal acting talent.
STORY: The age-old themes of friendship and acceptance have been the subject of many a film, but rarely have these universal issues been handled so delicately, and yet so powerfully, as in the new Australian production September.
Set in the Australian wheat-belt in 1968, September tells the story of two 16-year-old boys, one black and one white, whose pure and unaffected friendship begins to fall apart under the pressures of a changing social and political climate.
Paddy (played by Clarence John Ryan) and Ed (played by Xavier Samuel) have been best friends for as long as they can remember, having grown up together on Ed's family farm.
Paddy's family live in a small dwelling near Ed's family homestead and they work for Ed's father in a simple exchange for lodging and basic supplies.
Inspired by Aboriginal boxer Lionel Rose, the two boys spend their afternoons building and then sparring in a makeshift boxing ring.
But the times are changing. New laws are introduced that require Aboriginal workers to be paid at the same rate as white workers, and the boys become increasingly aware of the different worlds they live in.
Soon enough, relations between the two families become strained, and Ed and Paddy's friendship starts to fracture.
Clarence is outstanding as Paddy – a boy becoming a man in a time of great upheaval.
Clarence had just finished shooting the Channel 9 children's show Lockie Leonard when he was sent the script for September, which he describes as "magnificent". Within a month of auditioning for director Peter Carstairs, Clarence was offered the role of Paddy.
"I didn't really know anything about the politics of this particular time, such as the equal pay laws," Clarence says. "Making this film has taught me a lot about our history.
"A lot of Australians don't really know anything about this period – I had lots of people come up to me after they saw the film to tell me that they never knew those things happened. I think that's really important – to let people know what happened."
While the relationship between the two leads would be crucial to the success of the film, there was only a limited amount of time for the boys to rehearse together, as Clarence was in Western Australia while Xavier was in Sydney.
The boys had a week of rehearsal with Peter in Sydney before the shoot where they talked a lot about their characters. However, rehearsals proved challenging, not just because of limited time, but also because they also had to work on their boxing skills as well as their performances.
Neither actor had boxed before, so both Clarence and Xavier underwent training for months prior to the shoot – Clarence in Perth and Xavier in Sydney.
"I loved the boxing," Clarence says. "I picked it up really quickly. Although I don't really want to pursue it as a sport – an actor doesn't want to mess up his face!"
With the two boys having trained in different states, the rehearsal period was a time for them to come together and spar. During the rehearsal period they were also rigorously trained by stunt coordinator on how to screen fight, how to stand and how to act as though they were hitting each other without actually making any physical contact.
"We had to get used to each other's styles and get comfortable sparring with each other," Clarence says.
"The boxing scenes were one of the hardest things to do – it has to be perfect."
The result of the boys' hard work pays off, with the boxing ring scenes being some of the most powerful in the film. But the entire film is a triumph – a moving and enlightening work that provides a unique insight into Aboriginal Australian race relations in the late 1960s.
"It's a beautiful film," Clarence says simply. "I'm really proud of it."