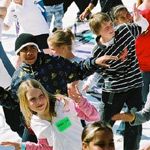 Teams are registering fast for this month's Vibe Alive in Coonamble with more than 65 schools signed up to vie for the top honours and participate in two days of full-on educational fun and games.
Students and community groups from around North West NSW and as far south as Sydney will gather to participate in friendly competition, meet role models like Casey Donovan, Suri and Courtney from So You Think You Can Dance? and screen star Michael Tuahine and be inspired.
Executive Producer Gavin Jones said many schools would be travelling for at least a day to arrive on the Tuesday night or Wednesday morning ready for a fun-filled two days at Vibe Alive.
The influx of young people and their carers, facilitators, guests and crew will swell the town's population of almost 5000. Last year's Vibe Alive attracted 530 participants and more than 2000 people converged for the free community concert.
"We have a fantastic community committee that is helping drive the event on the ground through Coonamble Shire Council and a dedicated board of individuals and organisations," he said.
"Working in partnership we ensure it's not just the young fellas who have an awesome time, learning new things, meeting new people and being celebrated for their achievements; but those who work to make the festival a success also have a great experience.
"Vibe Alive is about celebrating Aboriginal and Torres Strait Islander cultures and being a proud Aussie."
A free community concert is being held on the first night, Wednesday May 27, with fireworks, celebrity performances, food and refreshments, student acts and heaps of fun.
Vibe Alive runs between May 27 and 28, with many schools from around the North West bunking down in a tent city and facilitators, Vibe Alive staff, volunteers, celebrity crew and other guests staying in accommodation around town.
Coonamble is the first event on a national calendar that sees Vibe Alive tour the country, followed by Mildura in July then Port Augusta and Kalgoorlie in August before heading to Far North Queensland and Weipa for the September 16 and 17 finale.
The festival carries a lot of weight nationally, literally, carting around 40 tonnes of staging, lighting and other items to each festival across about 9000 kilometres of Australia's roads.
Vibe Alive contributes to community economies in a tangible way, utilising local catering, accommodation, venues, power supplies and staff for each event.
Vibe Alive events are funded through the Community Festivals for Education Engagement program.