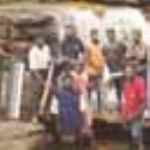 The Rockin' Wallabies
Northern Territory based band Narbarlek are rockin'. The band has recorded their first CD in 1998 and are on their way to releasing another.
As with a lot of bands, Narbarlek say that the beginning periods were the hardest for the band, but all of the hard work has paid off, now the band are really creating a name for themselves.
The nine member band are from Manmoyi near Oenpelli in North West Arnhemland. And the bands name Narbarlek, is the Kunwinjku word for Rock Wallaby.
Narbarlaks first big break came when they performed at this years Telstra Adelaide Festival followed by a statewide tour of South Australia as part of the Festival Harvest inaugural regional program.
Their road to success began in 1998 when the band members successfully applied to the Northern Territory Contemporary Music Course. This brought a full time instructor to live at the community to help them master their instruments and record their first CD.
And talk about having imaginations. When the band recorded their first CD, Bushfire, they soundproofed the community shed with doonas and carpet and practiced for weeks until each song was perfect.
"Our songs are Dreamtime songs done in a modern way. Old people used to tell these stories. Through our music we want to teach our children what the old people taught us, so our kids still have a culture," says Ross, lead singer of Narbalek.
The band combine the contemporary sounds of the drum, keyboard, rhythm guitar, lead guitar and bass guitar with the traditional sounds of the didgeridoo and clapping sticks.
Narbalek are continuing to enjoy success, recently returned from a very successful international tour to Germany and performed at the World Expo in Hannover. We can expect another CD out before the end of the year from this band again soon and more touring, a performance at Stompen Ground and a tour of the Kimberley. So keep your eye out for these deadly brothers.