Jimmy Little is an Australian icon.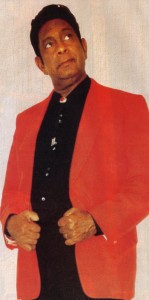 In his career which spans more than forty years he's made history several times over. Jimmy was the first black country music artist to be recorded anywhere in the world and the first Aboriginal artist to be inducted to the coveted Australia country music Roll of Renown. (He also received the even more sought after 'Deadly' for Outstanding Contribution to Aboriginal Music at this year's awards).
He's appered at Nashville's famous Grand Ole Opry at Sydney's Opera House at Royal Command Performances and in front of the Pope. He's released almost 40 albums and jusyt as many singles – his biggest hit, the 1964 release 'Royal Telephone' knocked the Beatles off the top of the Australian charts.
When Jimmy was young he actually wanted to be an actor, yet it was his singing which struck a chord with the public and it was not until he was much older that he was able to fulfil his dream to be a star of stage and cinema. Jimmy has starred in numerous films and theatre productions including The Festival of the Dreaming's Black Mary and the films Black River and Until the End of the World, the latter directed by the famous kooky German, Wim Wenders.
You'd expect someone with this much experience under his belt to be … well a little up himself. Quite the opposite – you couldn't hope to meet a more charming gentleman. He may be softly spoken but he's completely captivating and in stark contrast to some younger stars, when you're talking with Jimmy he makes sure that you and not he are the focus of attention.
He's a dreamboat!!
Jimmy has recently been back in the musical spotlight with the release of his album Yorta Yorta Man. Recording this album; Jimmy has achieved the fulfilment of a long held ambition to record an album of country and western songs by Australian writers.
The title track, "Yorta Yorta Man' is self-penned and describes Jimmy's home territory and background (his Mum's people are Murray Coomerguna Mission and his Dad's from Wallaga Lake).
The song was nominated as a finalist in the song of the Year category of the 1995 Country Music Awards of Australia effectively relaunching Jimmy's singing career.
Rhoda Roberts, presenter of Deadly Sounds, recently caught up with Jimmy Little and asked him to reflect on the successes of his career.
"It's a great feeling; I count my blessings all the time about the things that have happened in my career. I'm still creating new things I have yet to do.
We all have our dreams and you just never know what's going to happen.  I've stayed focussed on my career being day to day developed and I've welcomed n new opportunities. I come from two rich indigenous communities and I feel that's part of the blessing. I have my identity intact, I always have. Yorta Yorta Man is telling people that I still reflect on my blessings."
At heart there's no doubt about it, Jimmy is a crooner.
"I just wanted to be a singer of love songs and I still am and love can embrace all subjects.
It can embrace loving the land, the ocean, loving the sky, loving your neighbour, o9ving apple pie, loving your car – it embraces all that. Love songs are to me a way of making people feel good. The biggest hit records in the world are sad tearjerkers. They reflect on the happiest time in someone's life and when their heart is broken it's because they were the happiest and greatest times in their lives."
In his work as a teacher at Sydney's Eora TAFE, Jimmy has been very supportive of young Aboriginal musicians.
"Varity is the space of life. Recognition for our indigenous life and our stories is long overdue. We've been telling these stories for too long – our ancestors have been telling them and they've been documented in libraries, films, and documentaries, on and in song. But they were always seen as something that was incidental to mainstream. I enjoy what I read in VIBE magazine (On ya, Jimmy!!!). David Page, I enjoyed what he said and it's true – the luck in this country are the indigenous people. We are the luck of the country and we share it with our own people, all Australians are the world in fact. That's why I'm so excited about the festival we've just had. We're sharing our love of life in the world of music."
Yorta Yorta Man, Jimmy Little
I was born on the banks of the Murray
Yorta Yorta is my mother's tribal stand
I'm her son but my father's name I carry
As I walk through this great ancient land
My father taught me all the things I needed
Like identity and dignity with love
From his southern coastal ways of living
Wallaga Lake and Goollaga Mountain high above
   Chorus
I'm a Koori and I come from Cummeragunja
Where my people and my dreaming all began
Some day I know that I will be returning
Like the legend of my tribal boomerang
Spoken
My tribal ways are strong and not forgotten
And my city ways of living, well they may be grand
But you know I can pack it up,
Yes and leave it all tomorrow
And go back to my Yorta Yorta clan
The nature of the bush in all it's beauty
Gives me strength in all my will to understand
That no matter where I go my river people
Will be waiting for this Yorta Yorta man
Repeat chorus
Written by Jimmy Little