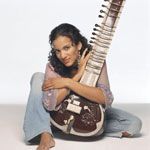 Heralded around the world for her unique sound and style, award-winning sitar player Anoushka Shankar is set to make her Australian and New Zealand debut in June 2008.
Often connected by the media with her father, the legendary sitar virtuoso and composer Ravi Shankar (who inspired The Beatles in the 1960's) and her half-sister, pop star Norah Jones, Anoushka Shankar has shown herself to be a hugely successful artist in her own right.
Anoushka is also not someone afraid to speak out. The first Indian ambassador for the United Nation's World Food Programme and an extensive campaigner in India for People for the Ethical Treatment of Animals, she is fast becoming a role model for young independent minded women, not just in her native Delhi but around the world.
Schooled in the Indian classical music tradition by her father, Anoushka's unique style of music cleverly fuses classical Indian, electronic and world music, and while her name may have brought her to the stage for the first time as a young girl, it is her talent and vision that have kept her there.
Anoushka has played with some of the world's biggest name artists including George Harrison, Herbie Hancock, Elton John and Sting. She has received critical acclaim throughout the world, received two Grammy nominations and also became the first Indian to perform at the Grammy Awards.
In this, her first Australian tour, Anoushka will be performing classical Indian as well as her own fusion of eastern and western style music from her most recent albums, Rise and Breathing Under Water. She is joined on stage by a band of leading western and eastern musicians featuring Ravichandra Kulur (Indian flutes and vocals), Tanmoy Bose (tabla and vocals), Leo Dombecki (acoustic piano), Nick Able (tanpura) and Barry Phillips (tanpura and cello).
A rare opportunity for world music lovers, Anoushka arrives in Australia on the back of extensive touring in the United States, Europe and Asia.
THE ANOUSHKA SHANKAR PROJECT
Sunday 15 June | Free activities from 2pm. Show at 5pm.
the Arts Centre, Hamer Hall | Tickets: $35 – $50 Premium tickets also available.
Bookings: theartscentre.net.au*, 1300 136 166*, the Arts Centre Box Office or Ticketmaster outlets
*Transaction fee applies