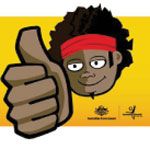 The Melbourne Comedy Festival is deadly serious about developing the art of comedy across all the country. In that spirit we welcome you to the Deadly Funny Grand Final.
Deadly Funny is a comedy competition for Indigenous Australians. Continuing on from the success of 2007 in Victoria, Deadly Funny will also have representatives from Perth and Adelaide making 2008 the biggest ever.
The Festival has sent out some of our most hilarious professional comedians to Aboriginal and Torres Strait Islander (ATSI) communities to hold workshops and community showcase gigs with emerging Indigenous performers. The best of the best will play off at the Deadly Funny Grand Final.
The competition is a unique opportunity for ATSI peoples to come together, celebrate their own distinctive humour and at the same time get an exclusive joke doctoring from some of Australia's funniest comedy experts. Finalists are in the running to win a share in $3000 cash and a deadly trophy.
The inaugural Deadly Funny Grand Final in 2007 saw Mia Stanford anointed champion.
Venue: Melbourne Town Hall, cnr Swanston & Collins Sts
Dates: Saturday 5 April
Times: 5pm
Tickets: Full $18, Conc/Gr/Laugh Pack $12
Bookings: Ticketmaster 1300 66 00 13, www.comedyfestival.com.au & at the door