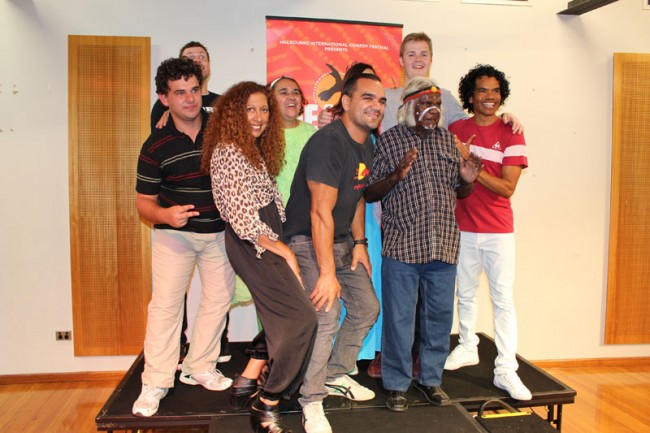 Deadly Funny – the only Aboriginal and Torres Strait Islander comedy program for Australia's traditional owners – is back in 2014 with a national search to find the brightest new talent in comedy.
Now in its eighth year, it has launched the careers of many including Mia Stanford, Tristan Savage, Kevin Kropinyeri and more.
In a quest to unearth the brightest and boldest new talent in regions across the country, a series of workshops and heats have been taking place in Melbourne and Sydney, with upcoming workshops being held in Perth, Adelaide and Brisbane.
The aim of the workshops is to culminate in a national final and showcase during the Melbourne International Comedy Festival.
In Sydney two weeks ago, a workshop with comedian Sean Choolburra took place and last Friday a host of NSW's budding Indigenous comics took to the stage to battle it out for a spot in the Deadly Funny National Final and Showcase.
The showcase will be part of the Melbourne International Comedy Festival, and the winner will receive a $2000 cash prize.
Past Deadly Funny winner Tristan Savage says the Melbourne Comedy Festival was a great experience to have and really gave him a leg up in the industry.
"It was great, I met a lot of comedians and I got to know a bit about the industry and what it's like. I got to perform in front of lots and lots of people. It was great."
The next Deadly Funny workshop will be on Thursday, 20 February in Brisbane at the Aboriginal Centre for Performing Arts with the heat taking place on Thursday, 6 March.
Next, the crew will head over to Perth with a heat taking place on Friday, 28 February at Rosie O'Grady's in partnership with The Comedy Lounge.
The last workshop will be held in Adelaide at the Nexus Multicultural Arts Centre on Wednesday, 12 March from 6 – 8pm. The heat will be held on Friday 21 March in a workshop from 5.30pm to 7.30pm then an 8pm performance.
The selected comedians will then get to head over to Melbourne ahead of the Melbourne International Comedy Festival on Saturday, 12 April at 3pm.