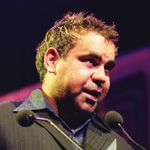 The Play's the Thing!
Wayne Blair takes on Shakespeare's toughest role.
Othello is a black man succeeding in a white world that ultimately turns against him.
For Wayne Blair, the beauty of being an actor is the opportunity it provides him to become someone else for a while – the freedom to slip out of his own shoes and into someone else's.
For the past few months, Wayne has had some pretty big shoes to fill – he has been playing the lead role in Bell Shakespeare's production of Othello. This is the first time the company has staged Othello, and Wayne is only the second Aboriginal actor to play the role (Tom E. Lewis starred in the Darwin Theatre Company's production of the play in 2006).
A tale of politics, power and passion, Othello is one of Shakespeare's greatest works. The character of Othello, the Moor of Venice ("Moor" is an old-fashioned term used to describe a Muslim person from North Africa), also remains one of the theatre's most challenging and demanding roles.
The tale of Othello is quite a dramatic one. Othello is a talented general who becomes the victim of another man's jealousy and his own self-doubt. Treachery, murder and suicide abound, as one man's life falls apart before the audience's eyes.
Although the play was written over 400 years ago, there are many issues within it that are just as relevant to today's society as they were in Elizabethan times, even within our own community. Not least of these are the issues of racism and tolerance – Othello is a black man succeeding in a white world that ultimately turns against him.
"Othello is good at what he does, and so the white characters look up to him," Wayne explains. "The fact that Othello is black doesn't really come into it until he marries a white woman – the beautiful Desdemona."
Othello's marriage to Desdemona creates jealousy within the heart of the play's villain – the fiendish Iago. Iago is envious both of Othello's position as commander of the Venetian armies and of his marriage, and so he goes about undermining him in a calculating and malicious manner. His cunning ploy leads Othello to wrongly suspect his wife of an affair and to question his own self-worth.
"We're all insecure," Wayne says. "And when you become surrounded by others' insecurity it can affect your own confidence. Because of Iago, Othello starts to second-guess himself – he questions himself, which eventually leads to his downfall."
Like any good Shakespearean play, Othello ends in tragedy. Fuelled by suspicions of his wife's infidelity, Othello murders Desdemona. When he then learns that his suspicions were wrong, Othello takes his own life. That's quite a scene to play out in front of a packed audience eight times a week.
"It's a very emotionally demanding role to play," Wayne says. "I have to purge quite a lot on stage, and it can take quite a while for me to come down from it all afterwards. But going through this has taught me that it's important to look after your spirit and your heart, because it's these that make you strong.
"Performing a role like this can really take it out of you physically as well. I've really had to look after my voice – I basically had to drop my voice down an octave for the role. Let's just say I've been taking lots of honey and eucalyptus."
Once Othello wraps up its run in Orange this month (the show also ran in Canberra, Melbourne and Sydney throughout May, June and July) there'll be no time to rest for this talented and hard-working actor. Wayne then has to go on to prepare for his next role in Sydney's Belvoir Street Theatre's production of Jesus Hopped the A Train – a play set in New York that follows the story of two inmates in a prison on Rikers Island.
But for now, Wayne can bask in the glow of knowing that he has succeeded in making this most difficult of roles his own. In some ways, there are parallels between this acclaimed actor and the doomed Moor – both are black men succeeding in a white world. But it is here the similarities end. For unlike the doubting Othello, Wayne Blair has his spirit to keep him strong
Othello shows at the Orange Civic Theatre in Orange, NSW from August 2 – 4, 2007. For more information, head to www.bellshakespeare.com.au or call 02 6393 8111.
For information about Jesus Hopped the A Train, head to www.belvoir.com.au