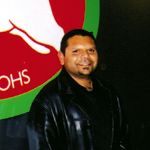 >Deadly Vibe Issue 83
There are many talented singers in the music industry today that can impress an audience with spectacular renditions of other people's songs.
However Warren Milera, an Indigenous country music artist from South Australia, makes himself heard through his original and evocative songwriting talents. Warren sings from the heart and is a true country idol in the making.
Warren recently travelled to Sydney to promote his music, and in between newspaper and radio interviews, he caught up with Deadly Vibe.
"I basically came into town to touch base with people," says Warren.
"Promoting my music by myself can get pretty difficult, especially in Adelaide where, even though I've got a bit of a following, the country music circuit is still pretty small. That's why I want to get out there more and take my music to other places."
Although he is still relatively new to the industry, getting up and performing is something that Warren has been able to adjust to easily. It is when he is playing his own country tunes and lyrics that he feels most comfortable.
"I've been playing music and singing all my life but have only been performing seriously for the last couple of years – I'm just starting to get right into it now," says Warren.
"I grew up with country music and played it all my life – my father played guitar and the guitar was always around. I listened to people like Charley Pride and all those older ones, and then over recent years it's been people like Alan Jackson, Troy Cassar-Daley and a few of the American country artists as well."
Warren's big break came at the 2003 Adelaide City Muster, where he took out top honours in the talent quest. His victory gave him the chance to open the muster in front of a huge crowd, performing on the same stage as Beccy Cole, Jimmy Little, Lee Kernaghan and Kasey Chambers.
"There were 7,500 people there and I was pretty nervous," says Warren. "I was mainly just worried about buggerin' it up, so before I got up there I thought to myself, 'Well, these are my songs and I wrote them' and that gave me some extra confidence and motivation."
As well as Warren's Adelaide City Muster achievement, he has also grabbed wins at the Indigenous Talent Quest at last year's Tamworth Country Music Festival and then a third in the male vocal category and first prize in the songwriting contest at the 2003 Riverland Country Music Festival at Barmera in South Australia.
"The Indigenous open-air concert at Tamworth in January last year is definitely one of the highlights for me so far," says Warren. "It was a showcase of all-Indigenous performers from around the country and to be a part of it was unreal – to look out in the crowd and see hundreds of black faces among the big crowd was great."
Much of Warren's success has come from his talent for writing songs. On his first album The Light on the Horizon, which was released just over a year ago, he wrote all 13 tracks.
"As far as writing from an Aboriginal perspective, I just write songs from personal life experiences, and I get feedback that all people can relate to my songs," says Warren.
"I just write about life in general and about the things everyone goes through – I don't have any political context to my songs.
"I think one of my strengths in music is my ability to write songs on the spur of the moment. I don't know how I do it, but it's just something that happens. I'm usually just sitting there playing and find a tune and I just go from there. It's like a puzzle and it all ends up falling together."
Before venturing into the music industry, Warren worked in Aboriginal health for 15 years. He also did a short stint in the police force before he went on to complete a degree in Indigenous community management.
"My role in the community has definitely changed now," says Warren.
"Over the past 15 years, I've worked on a lot of 12-month contracts in health and would always be moving from one job to the next. People would always come up to me and say, 'Hey, what job you got now?' or 'Where you working now?', whereas now I hear things like, 'When's your next gig?' and 'Let us know when you're playing next'."
Now that Warren has got his start, he is well on the way to following in a great tradition of exceptional Indigenous country artists.
"You have got to step outside the square, look at the bigger picture and not step back," says Warren. "I always say that everyone has got barriers in life, and our barriers are a little harder which means we have just got to jump higher."