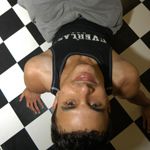 Deadly Vibe Issue 95 January 2005
Moving on up
Ever since he performed at the Sydney Opera House for the 2002 Deadly Awards, break-dancer Isaac Person knew that he wanted to study with the NAISDA Dance College in Sydney.
"Seeing the NAISDA dancers perform at the Deadlys was the one thing that really motivated me to try out for NAISDA," says Isaac, who made his way from Mildura to Sydney for the NAISDA auditions in late December.
Also known as B-Boy 2Ezy, Isaac has been busy for the past two years touring the country as the resident B-boy of the Vibe 3on3 as well as working for the Aboriginal Medical Service in his home town in Victoria.
Since 2002, Isaac has been diligently honing his dancing skills, waiting for the right moment to take the next step and head to Sydney for the auditions.
"I was more ready this year than I've ever been," says Isaac, who has had his sights set on NAISDA for the past few years.
NAISDA auditions last for seven intense days, during which time dancers from around the country get the chance to show what they've got – as well as what they are capable of – across a broad range of dancing styles.
For many young Indigenous dancers, the week spent in Sydney auditioning for NAISDA can be one of the most significant of their lives – not to mention one of the most daunting.
"Coming into the auditions, I was scared," admits Isaac.
"It was all new for me, and it wasn't easy, but I wasn't going to worry about not being good enough so long as I just got in there and was having a go, and that's what I did in the end."
Even though Isaac is one of the most agile break-dancers around, with the ability to contort and hold his body in some amazing acrobatic poses, some of the new exercises and stretches had even his well-trained body aching in certain places.
"I had never done a lot of the workouts before, like pilates," he says.
"We would do an-hour-and-a-half sessions, using muscles you have probably never used before, which was really difficult at first.
"But overall I think the hardest part was just adapting to all the new things and taking everything in without being worried."
This year, there were 35 dancers auditioning for 25 spots for 2005. Hopefuls travelled from as far as Townsville and even Yirrkala in Arnhem Land for their crack at NAISDA. Irrespective of whether they make it this year or not, all dancers leave the auditions with some invaluable experience and knowledge, and, most importantly, an added confidence.
"It was the bomb," says Isaac, "I learned and tried so many new things that I have never done before and overall it was just an awesome experience.
"I'd recommend any dancers out there to come and give it a go. You've got nothing to lose except for a week away. It's fun – you get to meet new people and experience things you normally wouldn't get to do."
* As Deadly Vibe went to press, Isaac Parsons got the phone call he'd been waiting for – he WILL be studying at NAISDA this year. From everyone at Deadly Vibe, congratulations Isaac!
(story 1/1/2005 end)
Windmills, flares, crazy legs and head spins are what this young breaking star is all about.
If you were lucky enough to attend the Deadlys, you'll recognise Isaac Parsons " aka "˜B-boy 2-Ezy' " as the young fulla who spun on his head during the Elvis medley.
But this young Koori fulla from Buronga in NSW also happens to be Victoria's U17 breakdancing champion. Hang on " Victoria, you say? Well yes, because Buronga is just over the border, and Isaac actually goes to school in Mildura.
"Winning the Victorian title wasn't really satisfying because I felt the competition was pretty easy," says Isaac. (Is that how he came up with his stage name?)
Isaac started breaking three years ago after he saw the movie Breakdance.
"A couple of my friends were breaking as well, so I just watched them and taught myself how to do it," he says. "I also went on the Internet, downloaded clips of breakers and studied them in slow motion."
So what drives Isaac to spin on his head and do all those crazy moves?
"I do it for the feeling of completing a move. When you complete a move or a combination of moves, you feel awesome!"
Understandably, Isaac's most memorable gig to date was dancing on the stage of the Sydney Opera House for the Deadlys.
"That was like a dream come true. I remember being really nervous, but once I got up there I was alright. I got to meet Shakaya and Ernie Dingo. The whole night was crazy!"
Next on the agenda are the national titles, to be held in Melbourne later this month. Is he nervous?
"I'm more excited than nervous " I don't get nervous until the day. I'm really looking forward to the titles. I've been practising lots of freezes and turns."
And head spins? Isn't that your signature?
"Yeah, but I've done it so often that it's boring now. I prefer freezes!"
Isaac looks up to people like hip-hop stars Ruen and Flav, but his family have been a big influence as well.
"Without my family's support I wouldn't be as successful as I am with breaking."
This talented young b-boy hopes to attend NAISDA Dance College, then start his own dance company and hip-hop crew in Sydney.
"There's a lot of black hip-hop talent around Australia, and I want to tap into that. I actually think breaking should be taught in schools as an elective subject. I know of one school in Melbourne that does it, but I think it would work all over the country."
Finally, does Isaac have any advice for those wanting to learn how to break?
"Learn all the basics first, step by step, as well as the history. Get together with a group of friends and practise together " that way you can get their point of view too. The more you practice, the better you will get."
DEADLY VIBE STARWATCH
What is your full name? Isaac Justin Parsons.
How old are you? 17.
Where's home? Buronga, NSW.
Were you born there? Nope, I was born in Fairfield.
What do your friends call you? 2-EZY.
What is your earliest memory? My dad saving me from drowning when I was three years old.
Can you rap or beatbox also? I can beatbox a little.
Have you studied dance or are you self-taught? Self-taught and by friends.
If you could form a breaking crew with your choice of breakers, who would they be and what would you call it? Ruin, my little bro Adam, Kid Flow, Lou Dorg, Crazy Rock, MC Wire, Brothablack and Monkey Mark. I would call it Unique Creation M.O.B.
Name a song that most describes who you are. "Raw" by Rakim.
What's the funniest thing you've ever done onstage? Falling hard while doing a combo in front of my school.
What CD do you have in your CD player at the moment? Phife Dog and the Neptunes.
Big headphones: cool or try-hard? Try-hard.
Most fulfilling experience in your life so far? Dancing at the Deadlys " it was a dream come true.
What would you most like to change about yourself? My age.
If you could have anything printed on a T-shirt that you had to wear for the rest of your life, what would it say? Young, Black and Deadly!
What's your favourite footy team in either or both codes? St George Illawarra Dragons.
Who's your favourite footy player? Mundine and Blacklock " they killed them with their dance duos.
What's your favourite part of Australia? Sydney.
You're invited to a fancy dress party. Who or what do you go as? A breaka/hip-hop star.
Michael Jackson: genius or freak? Genius.
What animal are you most like? Eagle.
Where do you see yourself in 10 years' time? Dancing as part of Shakaya's back-up crew all over the world, and opening a dance studio in Sydney to tap into black talent around Australia " because we're deadly!