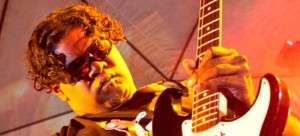 MY NAME IS…
Jeremy Whiskey
MY POSITION IS…
Lead guitarist, singer and song writer with Iwantja Band.
MY MOB IS…
Yankanytjara
I LIVE IN…
Iwantja community, also called Indulkana. At the top of the Stuart Highway in the Central Desert, South Australia.
THE POPULATION  HERE IS…
About 150 people.
BRIEF HISTORY…
I grew up at Mintabie, near Iwantja from the age of 12, and in the North Island of New Zealand before that. I am also a youth worker in the community.
DESCRIPTION…
The land here is flat apart from the Indulkana range itself. There are a few rocky outcrops. It gets stinking hot, averages in the 40s during summer.
LIFESTYLE…
Most people live at night and play music at night. We catch a few 'roos and rabbits and people make their own fun.