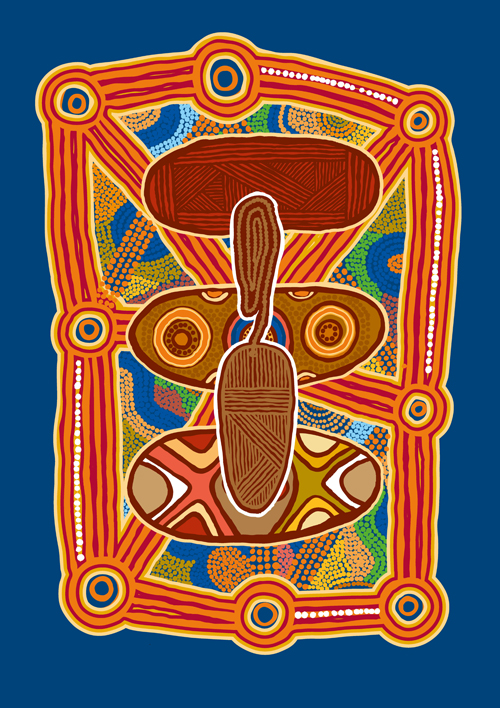 If you've been into a Telstra shop lately you may have seen an Indigenous artwork on the window or on a wall inside. The design, by well-known artist Riki Salam, has just been selected by Telstra to go into all of its 365 national retail stores and 88 business centres.
The Telstra Reconciliation Action artwork is now a feature on the front door of all Telstra stores, alongside Telstra's Acknowledgement Statement, which reads: "Telstra acknowledges the Traditional Owners of this land, their ancestors and elders – and is committed to reconciliation among all Australians." The artwork represents connection and shows the three pillars of Telstra's Reconciliation Action Plan – its Customers, communities and people – and calls for connection, celebration and action. Explaining the artwork, Riki says the object in the middle is a bullroarer. "That is the signal for people to gather. It is a form of communication – it is the blackfella mobile phone. It is about connecting and referencing the technology of the past and bringing it into the future. Looking at how that was done on a cultural level," he says.
He says the coolamon represented are carrying devices. What Telstra really want to get across is respect, opportunity and relationship. That is what the meaning behind those coolamon is. "The connecting lines represent different countries. It is essentially about bringing Australia together through different locations – rural, remote, regional or the urban environment around Australia."
Riki said he was proud his design had been selected and that the move was a milestone in Australian business. "Placing the piece in such a prominent location in all stores is a great example of corporate Australia embracing Indigenous culture and promoting inclusion in a high-profile, visible way," Riki says. "I'm proud that I was able to translate Telstra's vision into an artwork that calls for action and recognises the traditional landowners. It is great working with Telstra, a company dedicated to reconciliation. This is one of the showcases for National Reconciliation Week. It is great to be a part of it."
Riki has also worked on designs for other big corporate players such as Qantas, Woolworths and Lend Lease. Riki says he has always enjoyed art. "I started out with pencils on the bedroom walls at home, which my parents didn't like much," he says. Born and raised in Cairns, Riki's father is a Torres Strait man from Moa Island who was relocated to Mossman at the beginning of World War II. His mother is Ngāi Tahu (a Māori iwi) from Kaiapoi, near Christchurch in New Zealand. After studying Visual Art and Design in Brisbane, Riki honed his craft at renowned Indigenous art studio Balarinji under the guidance of artists and owners John and Ros Moriarty. He says in the future he will be working with more corporate clients, getting into more online stuff and developing apps.
Riki is the Creative Director of Gilimbaa, which is an Indigenous-owned and operated creative agency. It is an accredited supplier under Supply Nation (formerly AIMSC), of which Telstra is a member. It also works with other companies, including CBA, Qantas, NRL, NAB, BP, Lend Lease and Woolworths. Telstra's Indigenous Directorate General Manager, Lauren Ganley says Telstra has a long and proud commitment of supporting and recognising Aboriginal and Torres Strait Islander peoples. "Our Reconciliation Action Plan focuses on providing access to communications, employment opportunities and support for education, arts and culture to help secure a brighter future for Indigenous Australians," she says. "The acknowledgement of the traditional owners of the land where our stores are located is a small but genuine show of respect that we're very proud of. It's reflective of the business' values and is another way of connecting with our community. This is part of who we are.