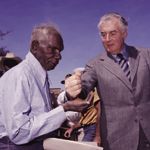 Deadly Vibe Issue 90 August 2004
Vincent's victory
"We want to live on our land, our way" – Vincent Lingiari, 1966.
Vincent Lingiari was a soft-spoken man, who possessed an unwavering will and passion for his people's rights to their land. He inspired an incredible landmark victory, in a time when Indigenous Australians faced terrible adversity. Because of this, Vincent is regarded as one of the greatest Aboriginal leaders of all time.
In the 1960s, working conditions and opportunities for Indigenous men and women were appalling, and work for men in the Northern Territory and other rural areas was limited to working as stockmen or station-hands on big cattle stations.
Back in 1966, along with several other men, Vincent led a strike that would shake the foundations of Australian society and create a new future for his people.
It was a simple stand, but one that symbolised a great deal.
The Wave Hill strike began on August 22, 1966, following the Wave Hill Station manager's rejection of a request by Vincent Lingiari for a weekly wage of $25 for Aboriginal stockmen. This sum was still less than the average wage paid to non-Indigenous stockmen at the time.
About 200 stockmen and domestic hands walked off the station, and camped at Wattie Creek, 13km away.
While the strike began as a protest against delays in granting better pay and conditions for Aboriginal station workers, over time it evolved into much more. The stand of Vincent Lingiari and the men and women at Wave Hill came to symbolise the Indigenous demand for independence and equality.
What began as a fight for equal wages became one of the first clear Indigenous expressions for land rights in Australia.
"He was a good leader," explains Victor Vincent, Lingiari's eldest son.
"He wasn't only fighting for the Gurindji people – he was fighting for all Aboriginal people, for the way the white man treated us."
Vincent petitioned the Governor-General for the return of 500 of the 6,000 square miles leased by the Government to the Wave Hill Pastoral Company.
In March of 1967, Vincent led his people back to Wave Hill Station. However, they were not about to surrender and instead they established their own settlement at a waterhole known as Daguragu.
Once there, they stood firm in their fight, demanding that the land be returned to them. They refused to return to station work and continued to live at the new settlement, where their ongoing battle now attracted a great deal of attention.
Eventually, a deal was tabled and the Government tried to lure the Gurindji people away from Daguragu with the promise of a new township. They were to be provided with brand-new homes on the drover's common near the welfare settlement at Wave Hill. They would be helped to establish orchards and vegetable gardens. But the Gurindji people decided to stay put.
"This bloke from Darwin came down to tell us what to do, but we didn't worry about making money – we were just sitting on our own ground," says Victor.
Interest in the case intensified as many people, for the first time, became aware of the appalling conditions under which many Aboriginal people lived.
It was clear that the Gurindji people were not about to budge. In March 1971, with the help of a variety of people, many of them non-Indigenous, they began fencing and building and soon developed the Murramulla Gurindji company.
Shortly afterwards, in January 1972, it was announced by Prime Minister Billy McMahon that funds would be made available for Aboriginal people to buy land. Following these announcements, Lord Vestey, who owned Wave Hill Station, offered to surrender some areas of his lease to the Gurindji people and they were handed inalienable freehold title to Daguragu. A victory!
In an emotional ceremony in 1975, Prime Minister Gough Whitlam poured local soil into the hands of Vincent Lingiari, symbolising the return of Wave Hill to the Gurindji people.
But the battle didn't stop there. In fact, it wasn't until 1986, 20 years after their battle for land rights began, that the Gurindji people were handed inalienable freehold title to Dagarugu, on what was formerly Wave Hill Station. Two years later Vincent passed away, a true hero of his people.
During the historic Wave Hill strike, Vincent Lingiari proved himself to be one of the strongest and most inspirational Aboriginal leaders ever, and his achievement will always be remembered as a turning point in Australian history.
(story 1/8/2004 end)